InHand Networking Solutions Accelerate Digital Transformation
InHand Networks is a global leader of industrial IoT. They aim to help accelerate digital transformation with innovative IoT technologies, such as M2M Routers, Vehicle Gateways, Edge Routers, IoT Management Platforms, and more, in this fast-growing era of intelligence.

Small Business Routers
InRouter302, LTE CAT 4 Router
You want a cost-effective, compact 4G LTE router
You want easy, reliable, and secure connectivity
You want a convenient plug-and-play router
Get easy, reliable, and secure connectivity with the InRouter302
The IR302 LTE CAT 4 is similar to the IR302 LTE CAT 1, but with faster data speeds and higher bandwidth capacity. Under perfect conditions, the IR302 can provide up to 150 Mbps download speeds and 50 Mbps upload speeds. Though, data speeds will vary depending on your carrier and signal strength. It's the best networking solution for data intensive IoT applications, such as POS systems, traffic management, smart medical equipment, etc. It's also a great, reliable, and affordable option for those who live in areas where broadband internet is unavailable or too expensive.
R 3,299.00
InHand InRouter302 Compact Industrial LTE CAT 4 Router
LTE CAT4CAT1/CAT-M1/NB IoT/3G/Ethernet/Wi-Fi
Dual SIM Failover

Built-in Link Redundancies

Compact Size, Easy Integration

InHand Device Cloud Manager
Multiple Secure VPN Services

Compact in Size, Easy to Deploy
Speed Up to 150 Mbps

Vehicle Gateways
InVehicle G710 Gateway
You require high-speed LTE Cat 6 connectivity
You require fast, reliable and secure connectivity
You require interfaces such as cellular, Ethernet, Wi-Fi, CAN, I/O, serial ports, Bluetooth and GNSS
High-speed Vehicle Networking with Multiple Interfaces
The G710 is a powerful vehicle gateway for reliable connectivity on the go and fleet management. It provides high-speed 2.4GHz/5GHz WiFi and Ethernet connectivity, ensuring drivers, passengers, and IoT devices receive reliable and secure internet access. When coupled with a telematics platform, you can easily and accurately monitor vehicle location, health, and dangerous driving. Thus, improving safety, facilitating preventive maintenance, and reducing operational costs. The G710 is designed for buses, trains, police cars, ambulances, semi-trucks, and the like. Though, it's also a phenomenal networking solution for RVs, campers, and house boats.
Coming Soon!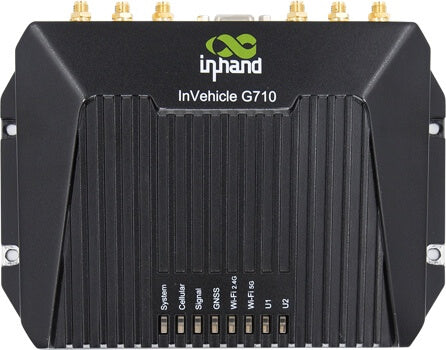 InHand InVehicle G710 High-Performance Vehicle Gateway
LTE CAT6 High Speed Cellular Network
Dual-concurrent Gigabit Wi-Fi, Gigabit Ethernet

Extensive Interfaces Including CAN Bus, OBD-II and I/O
GNSS & Base Station Positioning, Inertial Navigation

IOT Edge Computing

Large Fleet Management
MS Azure IoT Cloud Ready
Cloud-end VPN

Vehicle Telematics Gateway
VT310 Vehicle Telematics Gateway GPS Tracker
You need remote vehicle management of a fleet
You require uninterrupted real-time data on your vehicles' location
You want a state-of-the-art telematics gateway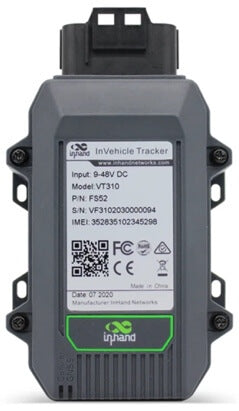 High-performing telematics gateway for fleet management
The VT310 features everything you need in a telematics device at an affordable price. With extensive built-in interfaces, multiple diagnostic protocols, and low power consumption, fleet managers can rely on the T310 to track and manage public transportation vehicles, rental cars, semi-trucks, and heavy equipment with accuracy and efficiency via any third-party telematics platform.
Coming Soon!
InHand Functionally Capable VT310 Vehicle Tracking Gateway
LTE CAT-M/1/4 Low Power Communications

High Precision GNSS
IP67 Protection

Power Management Sleep Mode; 1200mAh Battery
Vehicle Diagnostics

Built-in Accelerometer for Drive Monitoring

9-48V, Adaptable to Various Vehicle Power

Extensive Interfaces

Enterprise Routers
InHand ER800 SD-WAN 5G Edge Router
You require uninterrupted, high-quality, high-speed connectivity for your business
You want to conveniently manage and configure one or multiple routers from anywhere
You're concerned about data breaches and require a comprehensive security network

A new generation 5G SD-WAN edge router designed for your business
The IR800 is a new generation of SD-WAN edge routers, designed to provide your business with a convenient, safe, and efficient environment. Equipped with 5G network access capabilities and SD-WAN technology, the IR800 ensures uninterrupted, high-quality, high-speed connectivity. With the cloud-based management service, you can conveniently deploy, manage, and configure one or multiple routers from anywhere, facilitating zero-touch deployment, improving efficiency, and decreasing costs. Whether for retail stores, healthcare facilities, restaurants, gas stations, or other businesses, the IR800 will simplify the way your business operates.
R 21,365.00
InHand 5G ER800 Series Cloud Management Based SD-WAN Router
Centralized Cloud Management

5G High-speed Cellular Network Access

Support Zero Touch Deployment

Support SD-WAN
Comprehensive Security Protection
Multiple Alarms and Diagnostic Tools
Intelligent Management

Multiple Secure VPN Services
have you read our latest blogs?
Check out our blog to access the most recent updates and valuable insights.