The Ultimate Cell Phone Signal Booster Guide
The Cell Phone Signal Guide Menu
Quick Guide Summary
Guide Summary
Everything condensed into 14 bullet points for quick and easy reading.
1
The three biggest reasons of poor cell phone signal distance from a cell tower, building materials and geography.
2
Bars on your cell phone are not an accurate measurement for determining your signal strength. They are subjective measurements and vary across phone models and carriers.
3
Your real cell phone signal strength is measured in dBm.
4
Using Field Test Mode or smartphone apps can help you find the nearest cell tower.
5
Cell phone signal boosters work by taking existing outdoor cellular signal and amplifying it. The stronger the outdoor signal, the better your indoor coverage will be.
6
There are single-carrier boosters and multi-carrier (or wideband) boosters. Single-carrier boosters give better performance with their given carrier, while multi-carrier boosters are simpler and more generalized.
7
The two most important specs when buying an amplifier are gain and downlink power.
a. If you have strong outdoor signal, your amplifier will be limited by its downlink power.
b. If you have weak outdoor signal, your amplifier will be limited by its gain.
8
Your amplifier may automatically shut down if it detects oscillation (feedback) between its antennas, or if it is overwhelmed by strong signal. It will attempt to auto correct for the issue before shutting down completely.
a. Getting the right kind of coaxial cable can increase the distance you can run cable in-building without loss.
9
Outdoor antennas come in two types: omni-directional, and unidirectional. Omni-directional are more general and easier to install, whereas unidirectional give more gain and are better for weak or noisy signal areas.
10
You can buy as many indoor antennas and systems as you need and set them up with splitters and couplers. Indoor antennas come in two types: dome and panel. Dome is better than panel for wide open areas, while panel performs better in longer rooms and hallways.
11
In general, the more indoor antennas you use, the better coverage you can expect.
12
Consider a surge protector if you fear a lightning strike destroying your amplifier.
13
Public safety signal boosters are becoming a mandate like fire sprinklers and disabled accessibility in buildings. Most calls are now made over LTE rather than 3G or 2G networks.
14
Most calls are now made over LTE rather than 3G or 2G networks.
1. Why Do I Have Such Bad Signal?
The six main causes for poor cellular signal are: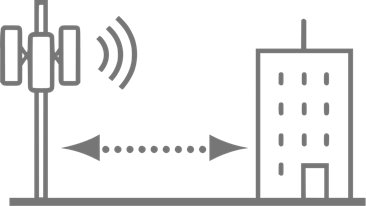 Distance from the cell tower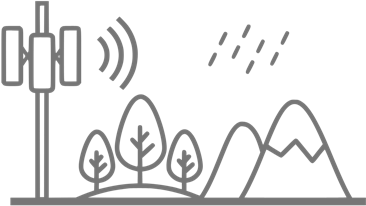 Topography (trees, hills, mountains, valleys)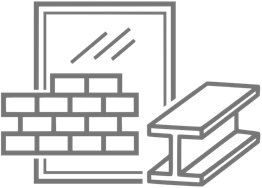 Building construction material (metal, concrete, thick walls, energy-efficient installations, etc.)
Electromagnetic interference (electronics, metal objects, etc.)
Tower congestion (a lot of people trying to use the same tower at the same time)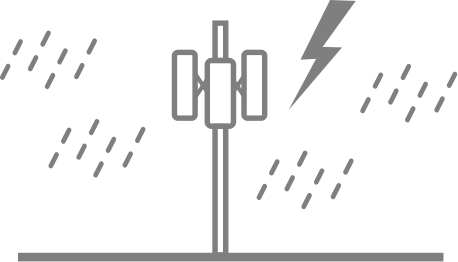 Weather and cosmic events (not much to be done about these!)
Cell phone signals are radio frequency waves, the AM/FM kind. Radio frequency is made for long-distance wireless communication; however, there's a trade-off.
Almost anything in between you and the cell tower can disrupt your cell signal. Those two factors (distance and obstruction) are the most important reason for your poor signal.
2. What Do Cell Phone Bars Mean?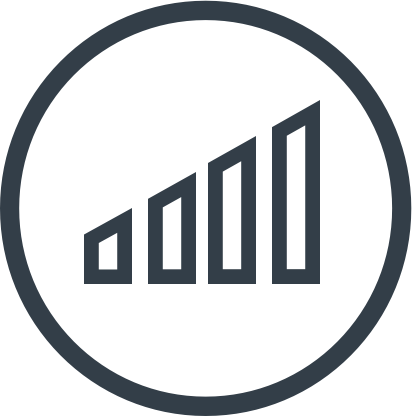 Cell phone bars are subjective signal strength readings that vary between each phone manufacturer and carrier.
So what could be 1 bar on MTN with iPhone might be 3 bars on Vodacom with Samsung Galaxy or full bars on Telkom with a Google Pixel despite receiving the exact same signal and performing at the exact same speeds.
That explains situations when you've had 2-3 bars and couldn't get anything to load or had 1 bar and everything was blazingly fast.
Luckily, there's a more accurate way to measure cellular signal strength.
3. How Do I Find My Real Cell Phone Signal Strength?
Cell phone signal strength is measured in dBm, with -50 dBm being great signal or full bars. -120 dBm is considered a no signal area or a dead zone. The closer you come to -120 dBm, the more unreliable the signal, and vice versa.
You can find your cell phone signal in dBm by accessing Field Test Mode on your phone.
NOTE FOR APPLE USERS:
Starting with iPhone 7 & above and iOS 11 & above, hardware and software revisions have limited the chances of finding your signal strength in dBm.
For iPhone Users
Intel chipset (iOS 11 & 12)
1. Dial *3001#12345#*
2. Tap LTE.
3. Tap Serving Cell Meas.
4. Your dBm is read as rsrp0.
Qualcomm chipset (iOS 11 & 12)
1. Dial *3001#12345#*
2. Tap 1xEV-DO.3. Your dBm is read as RX AGC0.
3. Your dBm is read as RX AGC0.
1. Dial *3001#12345#*
For any iPhone pre-iOS 11
1. Dial *3001#12345#*
2. Swipe down notifications bar.
3. Your dBm is in the upper left-hand corner of the screen.
If you're unable to find any of these options during your field test mode process, you most likely have an incompatible carrier and chipset. The next best method is performing a speed test around areas inside and outside your home. But once we crack the code on dBm readings on your iPhone, we'll update as soon as possible.
For Android Users
Field test mode on Android varies by phone model and Android OS version. However, it is generally found under the Settings menu.
Typical sequence:
1. Tap Settings
2. Tap About Phone
3. Tap Status or Network
4. Tap SIM Status
5. Your dBm is under Signal strength
Once you have your dBm reading through field test mode or app, walk around inside and outside the perimeter of your home. Make note which areas get the best dBm reading. This shows you the general direction of your cell tower and which rooms inside your home have the best reception.
4. How Do I Find My Nearest Cell Tower or Site?
Besides accessing Field Test Mode (listed above), we also recommend these apps to point to your nearest cell tower.
For more information: See our comprehensive Blog Post finding your nearest cell tower
For Apple
Walk around your house and perform speed tests. Fastest speeds indicates the general direction of your cell tower
About Cell Phone Boosters
5. What is a Cell Phone Signal Booster?
A cell phone signal booster (also known as cellular repeater, cell phone antenna booster, or a cellular amplifier) is an ICASA-certified and network-approved system (MTN, Vodacom, Telkom, Rain, Cell C) that improves your weak 3G & 4G LTE cell coverage.
It's like a megaphone for your cellular signal: it takes incoming signal from the outside, amplifies it, and then broadcasts the stronger signal inside your home, car, or office.
Works for all cellular devices: smartphones, cell phones, hotspots, tablets, laptops, M2M, etc.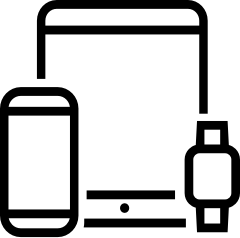 Works for all
South African carriers.
No monthly fees.
Does NOT NEED to be connected to WiFi or any landline internet.
So why do you need a cell phone booster?.
Signal boosters were–and still are–used predominantly in rural areas for individuals dealing with cell tower distance.
With the rise and demand for faster data speeds, cell signal boosters are now in high demand for businesses and power users in urban areas.
With cellular speeds nearly matching that of landline internet, more people rely on their cell phones as the only way to connect to the internet. Cell phone boosters ensure constant connectivity whether for work, play, convenience, or emergency.
6. Do Cell Phone Signal Boosters Work?
There are three types of responses: Yes. No. Kinda.
And these groups are responsible for the variety of high praise like "Heaven sent" to another that screams "Worse than my ex."
So why the big difference? Two reasons:
Yes!
First, cell phone boosters are HIGHLY dependent on the outside signal. Signal boosters do NOT create signal but take existing weak signal and amplify it. It "cures the ailing" but does not "raise the dead." In other words, your mileage may vary.
Second, boosters come with an inside antenna and outside antenna. One grabs existing signal from the outside. The other broadcasts enhanced signal indoors. Having enough separation between the two avoids oscillation. Think of standing too close to the speaker with a microphone.
No.
The No Camp have problems with the first situation. They didn't have enough signal to begin with; therefore, they feel they got a lemon. So to avoid being in the No Camp, make sure you have at least -95 dBm of outside signal. Even better, go outside and make a call, watch YouTube, stalk on Facebook, or do what you normally do. If it's a seamless experience outside but interruptions inside, then a booster will work.
Kinda
The Kinda Camp have problems with the second situation. Yes, the booster works, but people are too close to the inside antenna to get any coverage and feel limited by its range. That's because the inside antenna is broadcasting to the outside antenna and forming a feedback loop that is causing the system to not perform efficiently.
Having enough separation–at least 6 meters vertically and 15 meters horizontally–and making sure the inside antenna is not broadcasting towards the outside antenna are key for optimal boosting.
7. How Does a Cell Phone Booster Work?
Almost every cell phone signal booster is composed of three parts.
#1
The first part is the
outside antenna
, also called the donor antenna. This pulls in signal from the outside.
#2
The second part is the amplifier, also known as the repeater. It boosts signal up to its dB gain output ranging from +60 to +70 dB depending on the model.
#3
The third part is the inside antenna, also known as the broadcast antenna. It broadcasts the enhanced signal throughout the area in need.
8. What is the Difference Between Single-Carrier and Multi-Carrier Boosters?
A single-carrier booster amplifies signal up to +100 dB gain for one carrier at a time.
A multi-carrier booster amplifies signal up to +74 dB gain for multiple carriers simultaneously.
A single-carrier solution is more powerful; a multi-carrier solution is more versatile.
In general, we always recommend our WilsonPro multi-carrier boosters, because they are a great catch-all and future-proof solution.
9. How Do I Differentiate Amplifiers? (Gain & Downlink Power)
What makes one amplifier different from another? There are two main variables that make the determination: gain and downlink power.
Gain is about signal strength. It simply measures how much the signal is amplified, using dB. The more the gain, the more signal from the outdoor antenna is amplified. Most home boosters will range from +60 to +70 dB, while commercial boosters will have +70 dB and better downlink power.
Decibels are measured exponentially. Every +3 dB increase doubles the power. This also means for every - 3 dB decrease, the power is halved.
Keep this in mind when comparing signal boosters. A + 3 dB gain is significant!
This is why single-carrier solutions provide wider coverage for their designated carrier - they are able to focus all their power on amplifying those cellular frequencies assigned to that particular carrier, and give greatly enhanced gain.
Downlink power is about coverage area, the maximum signal the amplifier can transmit inside a defined space, measured in dBm. Therefore, the maximum downlink power sets the maximum coverage area of the system when the amplifier has a good enough signal.
If you have a weak outdoor signal, pay close attention to your amplifier's gain. That's what will determine how much stronger your signal becomes, and, essentially, how "loud" your amplifier can be.
If you have a strong outdoor signal, pay close attention to your amplifier's downlink power. That's what will determine how much signal the amplifier can take in and rebroadcast. Too much, and the amplifier will automatically shut off. If too much power is present, you may need to install an attenuator.
10. Cell Phone Signal Booster Installation
Installing a cell phone booster system is straightforward and simple for most homes. However, for commercial installations, we recommend going with a professional installation team.
If you have any questions call us at 011 749 3085 or email sales@boltontechnical.co.za for a free consultation.
For a typical home, installing a booster consists of these steps:
Find the area outside your home that is receiving the best signal (cell tower location).
Mount the outside antenna (usually on a rooftop).
Run cable from outside antenna to amplifier.
Place amplifier in a good well-ventilated location.
Mount the indoor antenna(s). Ensure 20-25 feet of vertical distance between both antennas to avoid oscillation.
Run cable from amplifier to indoor antenna
Check dB levels, power on your amplifier, and check your signal strength levels again.
Perform a speed test, check your email, watch a streaming video, etc. Is it much faster?
If yes, then congrats on having faster, more reliable internet and clear calls!
Vehicle installation is even simpler:
Mount the outside antenna on the roof of your vehicle.
Place the amplifier under the driver's seat.
Place the interior antenna near the driver's seat - best location depends on model of booster.
Plug power supply into car power supply.
Enjoy your booster!
11. Cell Phone Signal Booster FAQs
What's the difference between a single-carrier vs a multi-carrier booster?
In general, single-carrier boosters are more powerful than multi-carrier boosters; however, they are limited to only one carrier. Some official single-carrier solutions are dependent on being connected to landline internet. We generally prefer multi-carrier boosters for their versatility should you want to change carriers.
Can I use my signal booster outside?
Unfortunately, cell phone signal boosters are not designed to work outside a confined space, although you may expect some bleed through from the inside.
Does a signal booster work outside South Africa? Does it work in other countries?
Cell phone boosters, the ones listed here, work in South Africa. Outside of the the country, frequencies may be incompatible and therefore are not recommended unless your country's 3G & 4G LTE frequency matches that of South Africa.
Will a signal booster work on my [enter any type or brand name] phone or cellular device?
Cell phone signal boosters amplify existing signal to your device. So if your device is getting service from a carrier, a booster will work for your phone & carrier.
What kind of devices are compatible with cell phone boosters?
Anything–smartphones, tablets, notebooks, hotspots, M2M–that uses cellular signals provided by the carriers are compatible.
Will it improve my Wi-Fi?
A cell phone signal booster improves cellular service and not landline internet. So no, unless that "Wi-Fi" like 4G routers, hotspots, and in-car Wi-Fi use cellular signals.
How many phones does a cell phone signal booster support?
Everything depends on cell tower capacity which impacts how many devices it can handle at a given time. However, as a general rule of thumb, home boosters can support up to 10-20 devices.Vehicle boosters support up to 4 devices. Commercial units support to up 100-200+ devices. Again this all depends on the cell tower capacity which could lead to more or less supported devices.
Are cell phone signal boosters difficult to install?
Typical home installation takes less than 1-2 hours for units with outside mount antennas and less than 30 mins for wireless units. Vehicles with magnet mounts are less than 10 mins and units with fixed-mount installations are less than 1 hour. Commercial installation varies by size and scope of the project taking as little as a few days to several months.
Are there any extra or monthly charges to own & operate a cell phone signal booster?
None at all. You own the booster. It's yours for life with no recurring fees.
Do I have to purchase additional equipment along with my cell phone booster?
Cell phone signal boosters for home & vehicle come in complete kits. They have everything you need.
When using a signal booster, I'm not seeing an increase on my bars? Why is that?
As covered in our "What Do Bars Mean?" section, a bar's meaning is subjective across carriers and phones. If you want to a clearer picture of your change in signal, check out our "How Do I Find My Real Cell Phone Signal Strength" section - the methods described there work indoors, too.
Can I take a vehicle booster and use it for my home?
You can, but they are much weaker than a home system and are not designed for use outside the confined space of a vehicle, so don't expect much (if any) difference in your cell quality.
Will my neighbor be able to use my boosted signal?
Nope. Your boosted signal is confined to the space in which you set it up. If your neighbor comes to your home, however, they will get boosted signal.
Do you have a DC power supply for my home booster?
Unfortunately, no.
Can this be used with my solar panels?
Unfortunately, no.
Are the boosters waterproof?
The outdoor antennas are waterproof, but the amplifiers themselves are designed to be placed in a moisture- controlled environment, so, unfortunately, no.
Are they 5G compatible?
Not as of yet.
12. Booster Shutdown
Cell phone signal boosters are sophisticated pieces of equipment, and like any electronic device, can become overwhelmed. Sometimes, your amplifier will shut itself off, and you may not understand why.
There are generally two reasons why an amplifier will turn off: oscillation, and handling too powerful a signal.
Oscillation refers to electronic feedback. Think of a microphone and a speaker: when they are placed too close together, an unpleasant screeching noise emits from the speaker. That's oscillation. This should only happen to your amplifier if you place it too near an antenna, or if the indoor and outdoor antenna are installed too near one another. Generally speaking, the two antenna should have 6 to 7 meter of vertical separation to prevent this from happening.
Handling too powerful a signal is another common reason. If you have excellent outdoor signal but lousy indoor reception, that's generally considered a great situation for a signal booster. However, if you install your system to maximize your gain, you may end up overloading your amplifier. This is easy to fix, however, and there are a few main ways:
Use an attenuator: Attenuators are small devices you can plug into an amplifier to offset some of the gain which may be overloading it. If you struggle with overwhelming outside signal, this is your best solution.
Fiddle with your outside antenna: If your outdoor signal is so strong it overloads your amplifier, having an optimal gain setup for your antenna is overkill. Fiddle with your directional antenna, or try an omni antenna. See "Omni- Directional vs. Unidirectional Antennas" for more information.
Run more cable: The more cable you run, the weaker the signal ends up. If you run more cable from the outdoor antenna to the amplifier, you can lower the volume of your outside signal and get your amplifier working again. See "Understanding Cable Length: Size Matters" for more information.
Most more advanced, commercial signal booster systems offer automatic attenuation, so the threat of a shutdown no longer poses a problem. However, this will lead to lower gain levels throughout your installation.
About Cell Phone Booster Accessories
13. Antennas:
13a. Omni-Directional vs. Unidirectional Antennas
Choosing the right outdoor antenna and aiming it properly is crucial to getting the most out of your signal booster.
Outdoor antennas have some inherent gain (dB) attached to them, so they can add to the overall gain of the entire booster system you install. If you have a weak outdoor signal, a high gain outdoor antenna can make a huge difference to the quality and area of indoor coverage.
There are two major types of outdoor antenna: omni-directional and unidirectional.
Omni-directional ("omni")
All around performers, these antenna catch signal in a 360 degree radius. They work well if there are multiple cell towers nearby, or you're working with a powerful outdoor signal and are not interested in a great deal of gain from your antenna. They struggle, however, with distant cell towers, or with "noisy" areas where many cellular signals are present, but the carrier you want is farther away.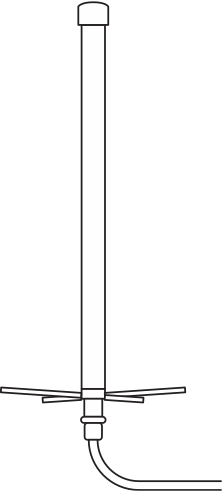 Unidirectional ("yagi")
Specialized performers, these antenna catch signal in a 45 to 90 degree directional field from their deployment. This allows them to reach 2 to 3x farther than an omni antenna with higher gain. They are ideal for rural areas and anyone who needs higher gain. If used in urban areas, they can be adjusted to get less than their maximum gain to prevent booster shutdown. They have two main drawbacks: first, they're trickier to aim and install correctly, and second, unless all carriers are within their directional field, they tend to boost one or two carriers and not all of them. It should be noted, however, that this is extremely unusual.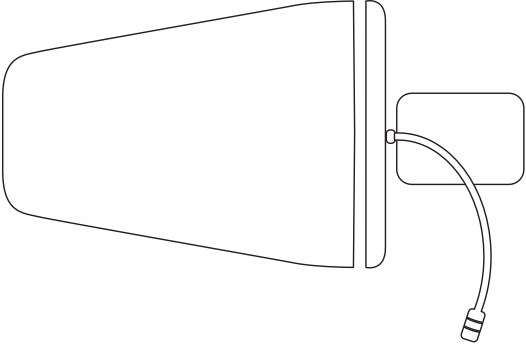 We generally recommend directional antenna, because often the benefits outweigh the drawbacks. The primary benefit to a directional antenna is the gain, which most people need if they're looking for a cell phone signal booster.
How to aim a directional antenna
There are a few methods to aim your directional antenna, but here we'll cover the best. First, you'll need a second person. One of you should be up on the roof with the antenna, the other standing indoors near an indoor antenna, taking measurements with each new location and direction. One of our favorite tools is Cellmapper.net, which can be used to locate nearby towers. This way one can dial into a specific carriers wavelength. Once the desired wavelength is located, the antenna should be aimed in that direction.
13b. Dome vs. Panel Antennas
The indoor antenna is the third essential piece to a cell phone signal booster, so just like the others, which one you get makes a difference. In this case, however, it's a bit easier to make the distinction.
There are two types of indoor antenna, named by how they are shaped: dome, and panel.
Dome Antennas
A dome antenna is typically installed on the ceiling, radiating signal outward from the dome and bathing a circular area with better reception. Buy this if you need to cover a wide open room.
The dome antenna comes in two flavors: one shaped like a traditional dome, and the other like a thin plastic sheet. We call this second one "low profile" because unless you know it's there, you would never notice it. There are some minor gain differences between the two, but aesthetics and cost are probably the most relevant differences between the two models. The low profile dome looks better, but costs a little more. It does, however, provide slightly more gain.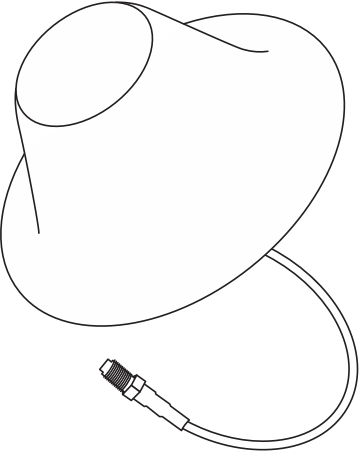 Panel Antennas
Panel antennas come kitted with a lot of home sets, and are generally useful in hallways and for smaller rooms. They don't work well in large office spaces or living rooms but are completely suitable for small home offices and bedrooms.
Bear in mind these are general differences, and without a floor plan, it can be hard to make accurate recommendations for which works best for you.
13c. How Many Indoor Antennas Should I Buy?
All amps that are 65-dB gain or stronger can support more than one inside antenna in case coverage needs to be expanded, and unless you live in a small area or only want one room coverage, buying additional indoor antennas could be warranted in certain cases. Just be aware that this will require a splitter and additional cable runs, which will result in a loss that must be factored in. The amount of additional inside antennas will depend on the booster model, the outside signal strength, the area needing coverage, and other variables.
In some cases, multiple indoor antennas may not be sufficient and the use of multiple booster systems inevitable.
Obviously, antennas aren't free, so finding the sweet spot between cost and coverage is the goal. Once again, we come back to the question of outside signal strength. If your outside signal is good, you can get away with fewer antennas. If your outside signal strength is poor, you will need more antennas to cover the area. A rough estimate would be around 185 square meter per antenna with strong signal, and about 100 square meter with weak signal. These figures fluctuate greatly, however, and if you are unsure, consider erring on the side of caution and purchasing additional antennas.
13d. Antennas for Vehicles:
Antennas for vehicles differ on what vehicle they are designed for as well as whether or not they are to be permanently installed. All vehicular outdoor antennas are omni-directional out of the necessity of handling a constantly changing signal, and are referred to by their mounting types.
Outdoor Options
Magnet
Designed with a magnet at its base, it strongly adheres to the roof of a vehicle, then runs cable inside. They usually stand at 10 centimeters for 4G systems or 30 centimeters for 3G.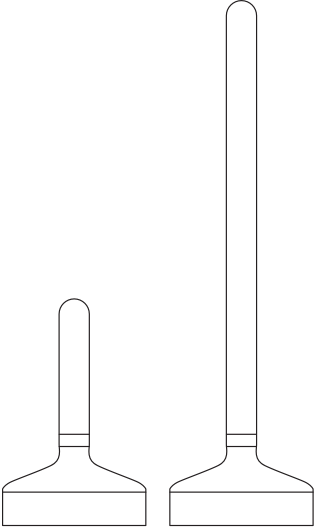 Spring or Fixed
Designed to be permanently mounted to a large vehicle such as an RV or a semi-truck. Comes with either a spring mount - capable of handling a low clearance impact - or a fixed mount, which cannot. Each type comes with a three-way mount to allow for different options.

Marine
Designed to be permanently mounted to a boat or other marine vehicle, it will attach to any standard marine fixture. It is safe to use on a sailboat due to it not protruding, and can withstand any type of weather.

Cradle
An antenna that funnels all enhanced signal to a phone sitting in its cradle. A great option for weak signal areas or for enhancing just one phone's signal, in order to make use of this antenna one's phone must remain in the cradle, so hands-free options to send and receive calls are a must.
Low Profile
The standard antenna for most mobile signal booster kits, the low profile is omnidirectional and can cover multiple cellular devices. Usually mounted on the dashboard or side of the driver's seat to cover both driver and passenger of the vehicle.
Panel
Mostly designed for RVs and large vehicles that can handle a building-level antenna. Identical to the panel antenna you would find in a home kit, the signal is directional, which makes it very difficult to use in a smaller vehicles such as a car or truck due to its size. However, it is more powerful than the other types of vehicular antenna.
14. Cables:
14a. Understanding Cable Length: Size Matters
So how can you maximize your gain but minimize chances of your amplifier shutting down? One tool you can use comes kitted with every signal booster sold in South Africa: cable.
When signal travels through a cable, it loses strength. The shorter the cable, the less signal loss occurs. When thinking about signal strength, it is imperative to get the right length of cable to maintain quality signal.
All cell phone signal boosters are sold as complete kits. The coaxial cables kitted with the booster will generally work for most setups, however, they may not be optimized for your specific situation. There may be times when the cable provided is longer than it needs to be, and your booster's output is reduced. Or you may have the opposite situation, where you need a bit more reach. In these situations, it is important to figure out how much length you can afford before signal loss offsets any signal gain.
For our signal boosters, we typically use one of six types of coaxial cable:
RG-6 - The most common coaxial cable for residential wiring, the RG-6 ships with most home booster kits. It's a 75 ohm cable with F-connectors that generally runs anywhere from 5 to 15 meters.
RG-11 - A more powerful version of the RG-6, this cable is thicker but has less loss. It comes kitted only with 75 ohm versions of our commercial boosters, but is a smart upgrade for your home system if you plan on running 5 to 6 meter of uninterrupted cable.
Bolton 400 - A LMR-400 spec, 50 ohm cable with N-connectors. Used in upper-tier home and most commercial installs, this registers minimal loss from 22 to 45 meter.
Bolton-600/LDF-4/AI-4 RPV-50 ("Half-Inch") - Half-inch thick industrial grade coaxial cable with N-connectors used only for the most massive of signal booster jobs. Generally, if you're thinking of running this cable, you have over 45 meter of cable to run at a time. So thick, it has a lesser bend radius, causing more challenging installations.
RG-58/RG-174 - These cables are used in cell phone signal boosters for vehicles, with SMA connectors. The difference between the two is the better low-loss quality of the RG-58 with cable length up to 1,5 meter compared to the RG-174's 1.8 meter. For large vehicles, such as RVs or boats, the RG-174 is preferred.
Plenum - Required for fire safety. It is available in different grades of cable. Extremely inflexible, this will only be used in very specific cases.
In general, the cable that comes packaged with your booster is suited to the task. However, pay close attention to the connectors.
14b. 50 vs. 75 Ohm: Which Is Best For You?
Above, we discussed coaxial cable and threw around some terms like "50 ohm" and "75 ohm" which may have caused a few of you to scratch your heads.
An "ohm" refers to electrical resistance. Cables are measured by impedance, how much resistance there is to the flow of electrical energy. The smaller the ohm number, the better the performance. A 50 ohm cable provides much better results than a 75 ohm cable. However, there is a big physical difference between 50 and 75 ohm cables: 75 ohm cables are much thinner, and more commonplace.
A general rule that doesn't just apply to cell phone signal boosters is this: 75 ohm cables are sufficient for home and office use, because they do a perfectly fine job of transmitting signal up to 22 meters. They are smaller and easier to install, thus more common. 50 ohm cables are more industrial and bulkier, therefore less common. However, they're critical to move signal over long distances.
It can be helpful and perhaps easier to remember the difference between 50 and 75 ohm coaxial cable rather than understand the more nuanced differences between individual cable types.
15. Splitters, Diplexer/Combiners, and Taps
If you have a large home or commercial installation and want boosted signal throughout, you might require a more fine-tuned system. Three accessories you may consider purchasing, or might be recommended to you by one of our installers, are a splitter, a diplexer/combiner, and a coupler.
Splitters
Splitters allow for a user to set up multiple inside antennas. They work by splitting the signal uniformly. There are splitters available to allow for two inside antennas, three inside antennas and four inside antennas. A two-way splitter has a -3 dB loss, a three-way splitter has a -4.8 dB loss and a four-way splitter has a -6dB loss. This means if a -70 dB signal is fed into a two-way splitter, each of the two outputs will receive a roughly -73dB signal (keep in mind, -73 is lower than -70). Similarly a -70 dB signal fed into a three-way splitter will have each of the three outputs receiving a -74.8 dB signal and if it is fed into a four-way splitter, each of the four outputs will receive a -76dB signal.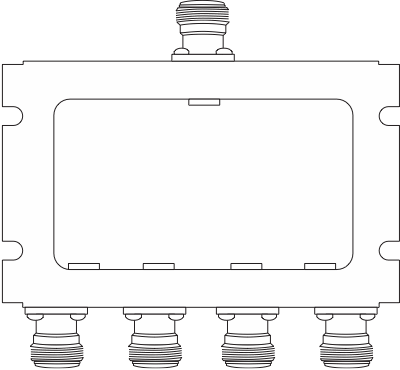 Diplexer / Combiner
A diplexer/combiner is designed to combine two outside antennas, each capturing a different set of frequencies, with one amplifier. This solution can also allow for a cellular signal boosting set up for different types of cellular networks (ie. combining a standard dual-band system or 4G LTE system with an iDEN system or AWS system). This item has N-Female connectors and each port has a loss of 0.5dB.
Taps
Taps allow for a user to set up two inside antennas while providing a stronger cellular signal to one inside antenna than the other. This is mostly for a set up which has one inside antenna close to the amplifier with the other being far away (requiring a long cable). Due to the loss of the signal from the longer cable, sending a stronger signal through the cable would be the smartest way to go. There are two types of couplers available, a 6dB tap and a 10dB tap. A 6dB tap would send a loss of -6dB to one end and a loss of -1.5dB to the other while a 10dB tap would send a loss of -10dB to one end and -0.5dB to the other. For example, feeding a signal of -70dB to a 6dB tap would send a signal of -76dB to one end and -71.5dB to the other while feeding a signal of -70dB to a 10dB tap would send a signal of -80dB to one end and -70.5dB to the other. Also called "couplers."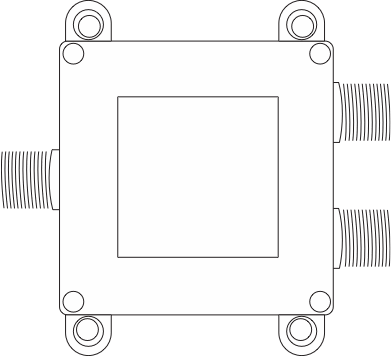 16. Surge Protectors
Surge Protectors
Surge protectors protect your home and booster in the unlikely event of a lightning strike. They are, more or less, insurance plans.A lightning surge protector is installed between the cable leading to the outdoor antenna and the amplifier. Properly grounded, it will protect your amplifier from lightning strikes. These are also called "inline" surge protectors.

We also recommend ensuring your amplifier's power supply is protected by a common in-home surge protector, as well.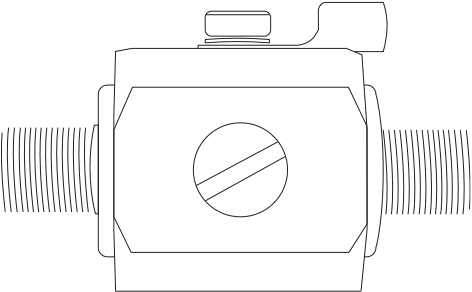 17. Pole Mounts
Pole Mounts
Pole mounts are accessories that makes it easier to install your outdoor directional antennas. The yagi antenna which comes standard with many signal boosters is designed to be mounted to a pole or mast on the roof of the building before being aimed at the nearest cell tower. Should you not have anything to use, a pole mount can help.
They vary in dimensions, with some being extremely basic - little more than a bent vertical shaft - and others with complex angled holes and multiple installation options to allow you to place the pole in the ideal location.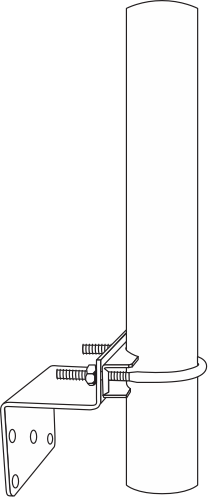 About Public Safety Signal Boosters
18. What Is a Public Safety Signal Booster?
A public safety signal booster is a dedicated system that improves in-building two-way radio coverage for first responders. During times of emergency, reliable public safety radio coverage helps empower first responders stay connected and save lives.
19. How Does a Public Safety Signal Booster Work?
A public safety signal booster bypasses building material–the leading cause of poor radio coverage–by capturing signal with an outside antenna, boosting signal with an amplifier, and broadcasting stronger emergency radio signal inside. It is protected by fireproof equipment (NEMA 4) and backed by a 12-hour battery source.
20. Does My Building/Jurisdiction Need One?
The local AHJ (authority having jurisdiction) that handles building code compliance has the ability to mandate the need of a public safety signal booster. The AHJ in this scenario is usually the fire department although it can be from any regulating organization such as labor or health department.
21. What Are 2G, 3G, 4G, and 5G?
Like many comparable technologies, cell phone tech has been released in generations. 2G, 3G, and 4G all refer to various generations of cellular technology that have been released over the last 30 years. 5G is just finishing up development and is not likely to have much of an impact until 2019.
2G
Short for "Second Generation," these networks were released in the 1990s and are largely obsolete. There exist two types of 2G technology: GSM and CDMA. These networks can transmit very little data, but some areas still use this for voice. These networks have been aggressively refarmed since the early 2010's into 3G or 4G networks for their faster speeds and higher quality.
3G
The third generation of cell technology, initially released in 1998. As with 2G, there are two types of 3G technology: UMTS/WCDMA/HSPA and CDMA200 (and EVDO). Many voice and text transmissions still use these networks, although fewer and fewer are as major carriers continue implementing Voice over LTE.
4G
Currently the dominant technology, most major US carriers are refarming their older 2G and 3G networks to support more 4G. All carriers utilize LTE (Long-Term Evolution) technology. For awhile, 4G was restricted to data-only, but as 2G and 3G networks are phased out, Voice over LTE is becoming more and more prevalent. In addition, despite the impending release of 5G, most major carriers have pledged to keep growing and supporting their large 4G LTE networks.The upcoming release of 5G promises much faster data speeds and looks to use millimeter-wave technology. Despite marketing hype, no phones as of yet are 5G compatible, but expect them in 2019. Anything as of this guide's printing claiming to be "5G" is more "pre-5G," and should not be confused with the actual new technology. We will update this guide with all relevant new information as it is released.
5G
The upcoming release of 5G promises much faster data speeds and looks to use millimeter-wave technology. Despite marketing hype, no phones as of yet are 5G compatible, but expect them in 2019. Anything as of this guide's printing claiming to be "5G" is more "pre-5G," and should not be confused with the actual new technology. We will update this guide with all relevant new information as it is released.
22. What Is Voice Over LTE?
A huge shift in cellular communication has been several major carriers rolling out Voice over LTE technology. This allows phones to make calls and send and receive texts entirely over the 4G network bands, without ever using the older 2G and 3G networks which, until recently, handled those transmissions. Voice over LTE is dependent on having newer models of smartphone, which are compatible with the technology.
If you are interested in buying a cell phone signal booster, you should ensure the booster you choose to buy is 4G compatible if you want that increased signal on a carrier which primarily uses Voice over LTE.
23. Glossary of Terms
3 dB – dB is a logarithmic scale, and 3 dB is exactly half the power. Most splitters have around 3 dB attenuation – they split the power coming through a coaxial cable in half.
Amplifier - The central component of any signal booster system. Takes the existing outdoor signal captured by a donor antenna and increases its strength, then sends it toward an indoor antenna, where it is rebroadcast.
Antenna gain – Gain derived from an antenna. This differs from amplifier gain, as antenna focuses on sending and receiving signal from a certain direction. Measured in dBi (decibel isotropic).
Attenuation – The weakening of signal over distance, or as it passes through building material. Attenuation is measured in dB, and is usually a negative value (signal gets weaker). -3 dB attenuation is twice as weak weaker signal. -20 dB attenuation is 100 times weaker signal.
Bands - Refers to the range of frequencies used by cell phone carriers to send and transmit voice, text, and data.
Coaxial cable – A type of cable designed to carry radio frequency (RF) signal. They usually have copper center conductors, some sort of shielding, and an outer conductor. Its resistance is measured in ohms.
Combiner - See "diplexer."
Coupler - A device used to add additional antennas or cable runs where signal is spread unevenly. Also known as a tap.
Cradle - A vehicle antenna designed to cradle a single phone.
DAS - Distributed Antenna System. A setup that creates its own signal in a fixed space. Divided into "passive" systems and "active" systems.
Decibel (dB) - A unit of measurement used to express the ratio of one value of a physical property to another on a logarithmic scale. Refers in the context of this guide specifically to the quality of incoming cellular signal.
Decibel-milliwatt (dBm) - A unit of level used to indicate that a power ratio is expressed in decibels (dB) with reference to one milliwatt (mW). Refers in the context of this guide specifically to the strength of incoming cellular signal.
Directional antenna – An antenna that has a 45 to 90 degree field in which it picks up signal. Can pick up stronger signal from farther away than omni-directional antenna when pointed toward a cell tower, granting higher gain. The three main types of directional antenna are "panel," "yagi," and "log periodic" antennas.
Diplexer - A tool used to split higher and lower frequencies per port.
Donor antenna – The exterior antenna in a signal booster system that captures the outdoor signal.
Dome antenna – A type of indoor antenna that is most often installed in the ceiling of a building, and transmit signals downwards.
Downlink signal – The signal sent from the cell phone tower to your phone. For a cell phone signal booster, this determines how much signal an amplifier can process.
ICASA – The Independent Communications Authority of South Africa (ICASA) is the official regulator of the South African communications, broadcasting and postal services sectors.
Frequency (Hz) - Frequency is the number of occurrences of a repeating event per unit of time. In the context of cellular phones, refers to the radio waves by which talk, text, and data are transmitted to and from a cell tower.
Gain (dB) – A measure of amplification. The higher the gain, the more a signal is amplified. Gain is a positive dB number, and it's measured on a logarithmic scale. 0 dB gain means no gain. 10 dB gain equates to 10 times the signal strength, but 20 dB gain is 100 times more signal, and 30 dB gain is 1,000 times more signal.
Indoor antenna – The antenna that is installed inside the building or vehicle in a signal booster system which communicates with your cell phone.
Inline surge protector - See "lightning surge protector."
Megahertz (MHz) - Unit of measurement deriving frequencies.
Multi-carrier booster - A device which boosts incoming signal from all available bandwidths broadcast by all major carriers.
Lightning surge protector – An accessory that protects your home, office, and signal boosting equipment in case lightning hits the donor antenna. Essentially a lightning rod.
Low profile - An omnidirectional vehicle antenna designed to be mounted to a dashboard or the side of a passenger seat.
Ohm (Ω) - The SI derived unit of electrical resistance. Fun fact: the symbol for it is the Greek "omega," last letter of the Greek alphabet.
Omni-directional antenna – An antenna with low gain that receives and transmits signal in almost all directions equally. Easier to install than a directional antenna.
Oscillation - Electronic feedback. For cell phone signal boosters, can occur if the donor and indoor antennas are placed too near one another or the amplifier. This will cause the amplifier itself to shut down. In a broader context, concerns of amplifiers causing feedback to cell phone towers was the impetus for the FCC regulations on signal boosters implemented in 2014.
Panel antenna – An antenna that can be installed as a donor antenna outdoors or indoors on a wall, and transmits signal outwards in the direction it is facing.
Pole mount - A mount with a pole for installing an outdoor antenna. Comes in various shapes, these allow more precise placement of an antenna.
Public Safety booster - A booster specifically designed around Public Safety related radio frequencies - firefighting, police, EMS, and all other disaster response teams. These frequencies are mandated by federal law to be reserved for Public Safety purposes, and a Public Safety booster targets them.
Radio frequency (RF) – Radio frequency is any frequency used to transmit a wireless radio signal, which includes cellular signal, WiFi signal, and regular FM and AM radio.
Signal strength – A wireless signal's strength is measured in dBm. Similar to gain, the signal is logarithmic. 0 dBm is 1 milliwatt, or 0.001 Watts; 30 dBm is 1 Watt; -10dBm is 0.0001 W, or 0.1 milliwatt.
Single-carrier booster- A device which boosts incoming signal based around bandwidths specific to a single cellular carrier. Capable of greater gains for that carrier but will not boost signal for any other carrier.
Splitter - A device used to reduce cable runs to multiple antennas. Splitters are best used when distributing antennas and running cables from a central location.
Spring - A type of mount for an outdoor vehicle antenna that can withstand a low clearance impact.
Tap - A device used to run cable and place antennas along a straight path.
UHF - Ultra high frequency. A shorthand designation for the range of radio frequency electromagnetic waves (radio waves) from 300 megahertz (MHz) and 3 gigahertz (GHz).
Uplink signal – the signal sent from your cell phone back to the tower.
VHF - Very high frequency. A shorthand designation for the range of radio frequency electromagnetic waves (radio waves) from 30 to 300 MHz, with corresponding wavelengths of ten to one meter.
Watt (W) - SI unit of power. Commercial cell phone boosters are generally limited to half a watt of power in order to prevent oscillation, per the FCC.
Yagi antenna - See "Directional antenna"