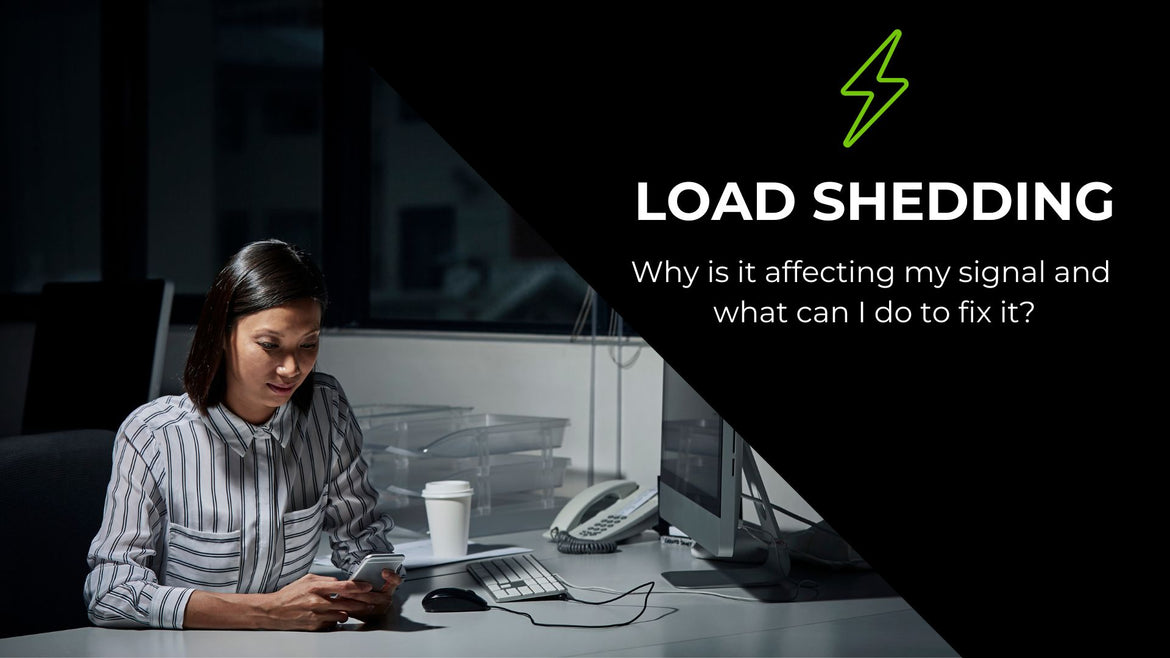 Load Shedding – Why is it affecting my signal and what can I do to fix it?
Load shedding, a word well known and despised in South Africa. Checking the load shedding schedule and planning the day according to the power outages has become a routine part of South African's lives. The planned power outages wreak havoc on the economy resulting in a loss of production, decline in profits, increased risk of theft and damage to electronics. A lesser-known effect is its impact on the cell phone towers. In this blog we look at how load shedding affects signal and what you can do to fix it.
Load Shedding on Towers
Most cell phone towers in South Africa have a back up battery, this kicks in when the power supply is disrupted by load shedding. The prolonged period of rolling blackouts has hindered the batteries from fully recharging. The batteries take 12 – 18 hours to recharge, and with the current schedule, they do not have not time to recharge effectively.
In some cases, the batteries have been illegally damaged or stolen, in this situation the tower will immediately shut off when the power supply is disrupted. Jacqui O'Sullivan, Executive for Corporate Affairs at MTN SA, said that the impact is far more significant due to theft and vandalism at MTN base stations, with over 800 batteries having been stolen between June and September this year.
With no end in sight with the ongoing power outages, staying connected has become challenging.
What can I do to fix this: Solution in focus
The client, Bulldog Abrasives, needed constant and reliable signal to run their day-to-day operations, but this was not possible during load shedding. When their nearest cell phone shut off during the power outages, they would lose reception. The Bolton Technical team of experts worked together and came with a solution that would work during load shedding.
They installed two donor antenna's outside of the building, the first one pointed in the direction of the nearest cellphone tower on the same grid as the property, and the other pointed towards a tower on a different grid. When one cell phone tower goes down due to load shedding then the second antenna will still receive signal, allowing the client to have uninterrupted voice and data.
Recommended products
For the best results, we recommend contacting our customer support team to schedule a site survey. Our site survey specialist will be able to accurately assess your signal needs and will develop a customized load shedding signal solution for your situation. If you would prefer to install the system yourself, here are some tips on which products to select.
WilsonPro A1000 Signal Booster
Drawing in signal from a different grid would generally mean that the cell phone tower is further away and the signal may not be as strong as the signal from a tower nearer to you. For weaker signal, we recommend the WilsonPro A1000 Signal Booster solution. With 74 dB gain, this powerful repeater will amplify your cellular signal up to 32X for better voice, text, and data. The WilsonPro A1000 signal booster solution is sold as an easy to install kit and can be purchased from Bolton Technical's online store.
Yagi Directional antenna
The Yagi Directional Antenna is perfect for capturing signal from towers nearby and in line of sight. This antenna comes as an option with the A1000 Signal Booster kit or can be purchased separately.
This antenna can be used to take in signal from towers nearby or towers that are up to 8km away. Up to +12 dB of gain, it is nearly three times as powerful as a typical yagi antenna, and several dB higher than other log periodic (LPDA) antennas on the market. It Provides continuous gain across all cellular frequencies and has a beamwidth of 50 - 60°.
The Long Ranger
The Long Ranger Antenna is a Ultra High Gain Parabolic Antenna and can pick up signal from up to 16km away. With a radiation cone between 4 to 20 degrees, it allows for narrow, fine-tuned, and farther aim than most wideband antennas.
Ideal for remote communities in extremely weak signal areas who have trouble even reaching their nearest cell tower, and for enterprise, who want to get the most out of their commercial booster.
How May We Help You?
Bolton Technical is a leading provider of cell phone signal boosters, devices that amplify 4G & 3G LTE for any phone with any carrier for home, office, or car. We've boosted over 1,000,000 m² of signal for homes, buildings, and vehicles across America and Canada and now that same power is boosting signal across South Africa.
Free consultation (ask us anything) with our South African-based customer support. Email us or Call us today.
Free shipping over R500 to Major South African cities. Usually ships same day.
30-day money back guarantee. You want to make sure you're satisfied.
Our goal is simple: keep people connected. Ask us anything and we'll be glad to help.