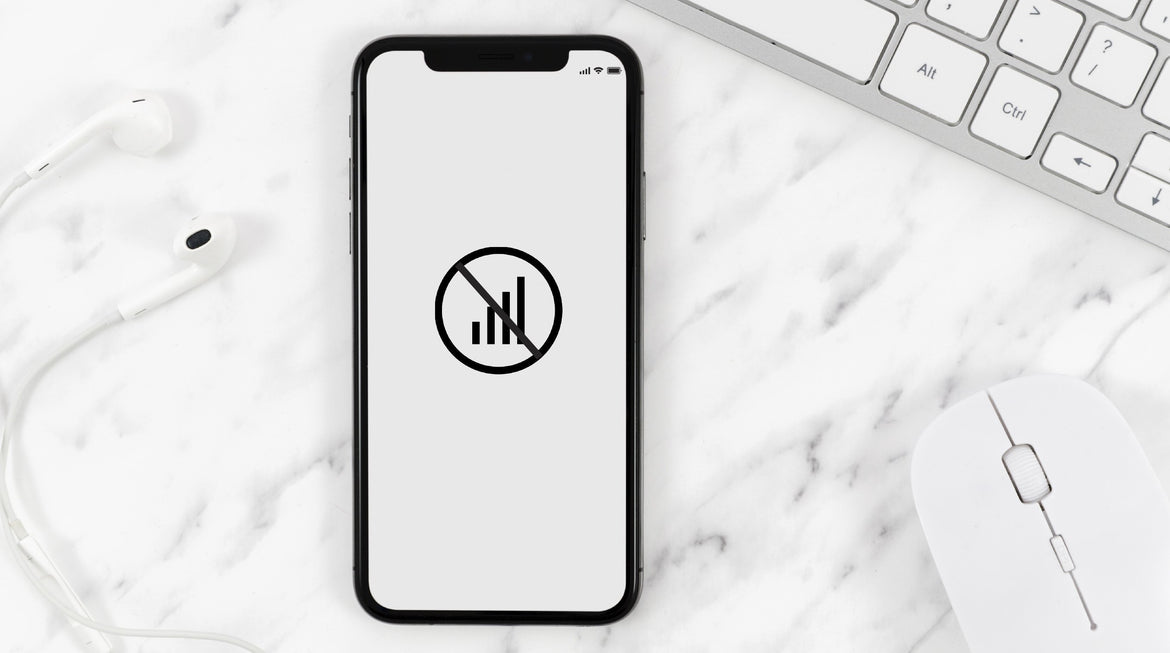 The iPhone 12 Connectivity Dilemma
Why isn't my iPhone 12 Working with My Signal Booster? 
With the release of the iPhone 12, people in South Africa flocked to get their hands on this device. However users have noticed that the iPhone 12 inexplicably loses signal, even with the support of a cellular signal booster. Does this mean signal boosters are incompatible with the iPhone 12? We've received loads of calls regarding this topic, so you're not alone.
The iPhone 12 Connectivity Dilemma – 5G & LTE Cellular Signal Drops
Immediately after the iPhone 12 launched, LTE and 5G network dropped and people began complaining about "No Service" on many forums. This dilemma is affecting users across all South African Networks, as well as the rest of the world. 
Users were having issues in areas where they didn't have network problems with their previous devices. But what could be causing this Network issue on these devices?
According to many reports, users are losing service while moving. The issue could come from switching from one cell tower to another and failing to reconnect. Cellular towers can only cover so much area. When you leave the coverage area of a tower and enter a new one, your device is supposed to automatically pick up the new tower's frequency bands for stable connectivity, which doesn't seem to be happening with the iPhone 12. If the cell tower this theory is correct, it would explain why so many users believe their vehicle signal boosters don't work with their iPhone 12. Cell Phone signal booster antennas are constantly picking up cell signals from different cell towers. Instead of seeing amplified signal, customers may be seeing network drops because their iPhone 12 isn't registering the changeover between towers.
However, this is not an isolated issue as other iPhone 12 users have reported randomly losing signal while stationary. iPhonetricks says that losing signal while standing is the result of the device operating on the border of two cellular towers and switching between the two (Note: this statement hasn't been confirmed). If this theory is correct, then amplifiers picking up cellular signals from multiple cell towers would result in your device receiving boosted signal from different towers, which could cause your iPhone to disconnect from the network. 
While it may seem cell tower handoffs are the sole cause of network drop issues, the problem may be much deeper than that. Seeing as it's happening across multiple Networks throughout the world, it's probably not a network issue either. Maybe it's a hardware or software issue since not every iPhone 12 owner is experiencing network drops.
Apple hasn't spoken out or made any statement regarding this issue. Thanks to customers taking their experience to social media and public forums, we know that US carriers, Verizon and AT&T are working with Apple to resolve the issue. As more information becomes available, we will update this blog.
Do Signal Boosters Work with the iPhone 12 Series? 
Yes.
Because these devices are randomly disconnecting from the network, many customers are assuming their phone is simply not compatible with their Repeater, which is a fair assumption for those unaware of the issue. 
Cell phones use radio frequency waves to send and receive voice and data via cell phone towers. Those frequencies fall within frequency bands allocated for 3G, 4G, LTE, and 5G signals. The amplifier's external antennas pick up frequency waves (in other words, available outside cell signal) from nearby cell towers, boost the power, and broadcast enhanced cell signal inside your home, office, or vehicle. As long as your iPhone 12 operates under the same frequencies the signal booster can amplify (which it most likely does), your iPhone 12 will be able to take advantage of the boosted signal for faster data speeds, uninterrupted text messages, and significantly fewer dropped calls. 
If you see that your iPhone 12's signal degrades before the connection drops or randomly loses service even though you have a cell phone signal booster, it's because iPhone 12 models are not retaining a network connection, not because it doesn't work with signal boosters. During the times your phone is working fine and staying connected, your iPhone utilises the boosted signal to make calls, watch videos, post content on social media, and more. 
How to Fix the iPhone 12 "No Service" Problem
Since it's still unknown as to why iPhone 12s randomly lose service, the following troubleshooting tips are simply workarounds to help you reconnect to the network. Once connected, your device will receive amplified signal from your booster while at home or on the go. Here are a few things to try: 
Toggle Airplane Mode 
Airplane Mode forces your cellular device to disconnect from the network to fix minor network issues. After disabling Airplane Mode, your device will search for the closest cell  phone tower and reconnect to the network. This simple process has helped many iPhone 12 users, however this will only be a temporary fix. 
Here's how:
Method 1: Open the Control Center by swiping down from the top-right corner -> Tap the Airplane icon to enable -> After a few seconds, tap again to disable
Method 2: Go to Settings -> Look for Airplane Mode -> Tap the slider to enable -> After a few seconds, tap again to disable
Restart Your iPhone 
If this doesn't work, try restarting your Device. Turning off your iPhone 12 also helps disconnect from the network, as well as eliminate any bugs that could be affecting your device's performance. When your phone restarts, it's forced to search for a signal and hopefully connect and retain it. 
Here's how:
Soft Reset: Click and hold the Side Button and either Volume Button at the same time -> Release buttons once Slide to Power Off appears -> Drag the power off slider to the right -> After a few seconds, hold the Side Button till the Apple logo appears. 
Force Reset: Press and release the Volume Up Button quickly -> Press and release the Volume Down Button -> Press and hold the Side Button for a few seconds till the Apple logo appears.
Disable 5G Connectivity 
Unstable signal could also be related to the fact that the iPhone 12 is the first 5G compatible model. It's plausible that when switching between cell sites, the device is searching for 5G service and dropping the connection when it's not detected. Disabling this is worth considering if it means you'll be able to make calls and browse the web.
Here's how:
Open Settings -> Tap Cellular -> Tap Cellular Data Options-> Tap Voice & Data -> Select LTE
Check Your SIM Card 
A SIM card allows you to access your Network. A damaged or dirty SIM card can prevent your iPhone from receiving and retaining a consistent connection. 
Here's how:
Insert a SIM-eject tool (this should be included in your iPhones packaging), paperclip, or the back of an earring into the hole on the SIM tray and push in. Pull out the tray and remove the SIM. 
Replace Your SIM Card 
Some US customers have claimed that they've had success in removing the "No Service" issue after replacing the carrier SIM card that came with the phone for a normal SIM card. After receiving a new SIM card from a mobile network in the US, the problem stopped, according to a Verizon client. The same thing happened to Stacey Simons. AT&T supplied her with a regular SIM and the issue disappeared. She also mentions that the regular SIM will still connect to the 5G network, so you don't have to worry about missing out on 5G service wherever it's available. 
Update Network Settings and IOS
Network settings and IOS updates are designed to improve your network connection, performance, and remove software glitches. Operating under previous versions can impact connectivity and performance. 
Here's how:
Network Settings: Open Settings -> Tap General -> Tap About -> If an update is available, you'll see an option to update your carrier settings
IOS: Open Settings -> Tap Software Updates -> If an update is available, download and install 
Reset Network Settings
This step will reset your cellular and WiFi settings back to the factory default. All connectivity information will be eliminated from the device, forcing you to disconnect from your  network and remove connectivity bugs. Once your phone restarts after the reset, it'll connect to the closest cell phone tower and hopefully maintain a consistent connection while stationary or in motion.
Here's how:
Open Settings -> Tap General -> Tap Reset -> Tap Reset Network Settings -> Enter your passcode if asked to -> Tap Confirm 
Factory Reset 
If you're still experiencing network issues, this should be a last resort. A factory reset will erase everything from your phone – apps, bugs, personalized settings, media, etc. If there's a setting, an app, or a bug inside your phone that is causing you to lose service out of the blue, this will definitely eliminate it. Before doing this, make sure you've backed up your device so you don't lose important documents.
Here's how:
Open Settings -> Tap General -> Tap Reset -> Tap Erase All Content and Settings -> Tap Confirm after backing up your data 
Contact Your Network and Apple 
If all else fails, it's time to contact your network provider and Apple. Even though they may ask you to perform all the troubleshooting tips above, with more callers and complaints they might try to find a solution faster and address the issue. 
Questions? Contact Us 
Bolton technical South Africa is the leading provider of cell phone signal boosters. If you have any questions or comments regarding your iPhone 12 network issues, please email us on sales@boltontechnical.co.za.