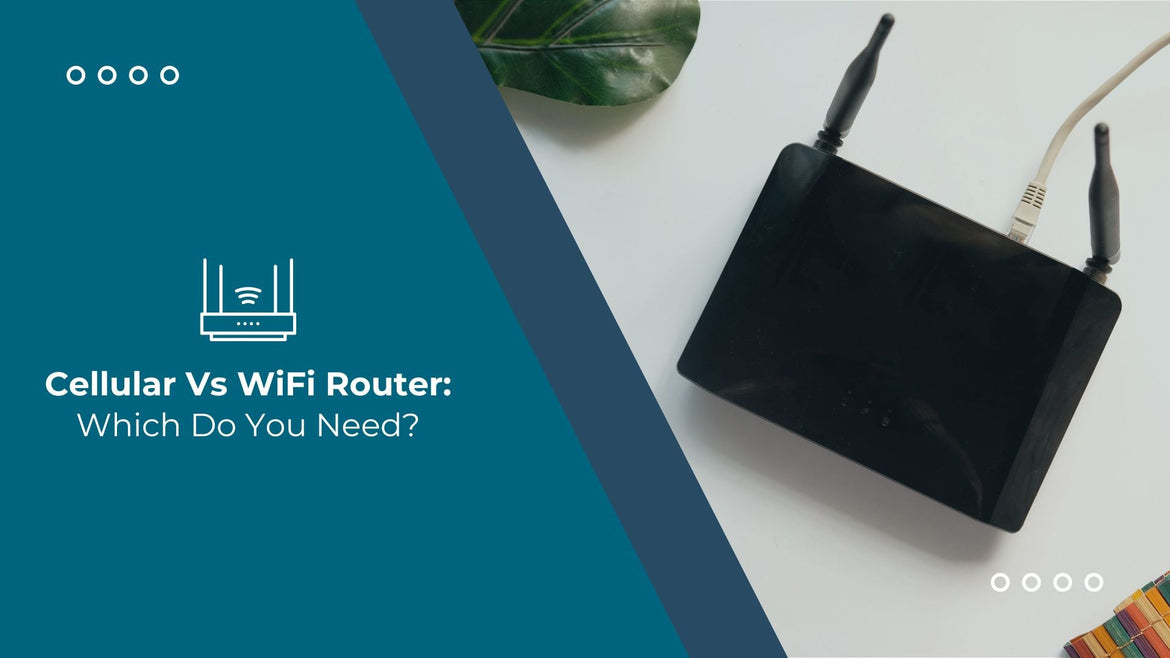 Cellular Vs WiFi Router: Which Do You Need?
Everyone requires a stable internet connection. Knowing what a cellular router vs what a WiFi router does will make identifying the best connection for you a lot simpler. The primary difference between a Cellular and a WiFi router is the type of signal they receive. Selecting the best one for your situation depends on a variety of factors, what you need to do with your internet, where you are located, and how much data you need to use.
More about WiFi Routers
A WiFi router takes radio waves and sends it to your devices. Its effectiveness will depend on how powerful the signal it receives is, as well as what technology is being used. WiFi 6 is the newest technology and is much better than the first little  routers we used to join the wonderful world of the internet.
The first WiFi devices had speeds of up to 2Mbps. An online video today streams up to 51Mbps for a 4K video, which is a tremendous difference to the first WiFi technology's capabilities. Current WiFi routers perform a variety of functions including better security settings, beamforming and much faster speeds.

More about Cellular Routers
A cellular router is similar to a WiFi router. They also take in radio waves and transmit them to your devices. The big difference here is a cellular router gets its signal from network operators, such as MTN, Cell C, Vodacom and Telkom. They are often a better choice if you live in a remote area or are on the go. Cellular routers can be upgraded with various add-ons such as range extenders and bigger antennas.
Pros and Cons of WiFi routers
Every technology has its pros and cons. WiFi is a reliable, stable link; so long as you have either a cable such as fiber, or great LTE coverage. WiFi routers can also be connected to form a mesh network. This will give enhanced coverage for larger areas such as offices or large homes. WiFi routers can be connected to more devices and can also bring faster data streaming speeds than cellular routers. WiFi providers are more cost effective to use than cellular providers and offer data packages for online gaming as well as streaming.
The main downside of using WiFi routers is where they can be used. Without a range extender, it cannot travel very far. WiFi routers cover a small area, and you need to have a connection to a network via an antenna. WiFi routers will not work in vehicles.
Pros and cons of cellular routers
Cellular routers are best for moving areas like cars, or where you can't get cabled internet access. Cell signal is almost everywhere and have a good track record with lots of network providers to choose from. It's able to be picked up by any device with a SIM card and can be boosted with cell phone signal boosters and a transmitter if it is too weak. You can also create a mobile hotspots with cell phone or mobile device. It can also be safer for checking important information.
The drawback of using a cellular router are the costs involved and how much data can be utilised. With 4G available across the country, and 5G being rolled out in many places, data streaming speed is not an issue. This is limited to your signal strength, however. The poorer your signal, the slower your data will transfer. The amount of cellular data that you can use is often limited depending on which plan you have chosen from your network provider. Streaming or gaming can use data up quickly.
You need to be within range of a cell phone tower to use a cellular router, The further away you are located from the tower, the poorer the signal will be. A poor signal can be repaired with a signal booster, however, if you don't have any towers nearby you will not receive any signal at all. A SIM card is fundamental to use any cellular connection, as well as either data or airtime with a network provider.
Knowing your situation will help you to pick the best router
So how do you know which router is right for you? If you are in an urban area, like a city, with either LTE or Fiber connectivity, then a WiFi router is your best bet. If you want to stream lots of data or use a video streaming service, then a WiFi router is the best choice for you. This is recommended when you have your own personal WiFi connection. If you only have access to a shared WiFi network, then using a cellular router will give you more security and privacy.
If you are on the move or live somewhere remote, then a cellular connection is your best option. Don't worry if your cell signal isn't strong enough, you can always use a signal booster kit such as the WilsonPro A1000 Signal Booster Kit. These kits are easy to install and come with everything you need to improve your cell signal across all phones and networks. If you spend a lot of your time on the move, you can try the weBoost AM100-Pro. This fantastic little device keeps you connected and in touch even on remote dirt roads. 
How May We Help You?
Bolton Technical is a leading provider of cell phone signal boosters, devices that amplify 4G & 3G LTE for any phone with any carrier for home, office, or car. We've boosted over 1,000,000 m² of signal for homes, buildings, and vehicles across America and Canada and now that same power is boosting signal across South Africa.
Free consultation (ask us anything) with our South African-based customer support. Email us or Call us today.
Free shipping over R500 to Major South African cities. Usually ships same day.
30-day money back guarantee. You want to make sure you're satisfied.
Our goal is simple: keep people connected. Ask us anything and we'll be glad to help.