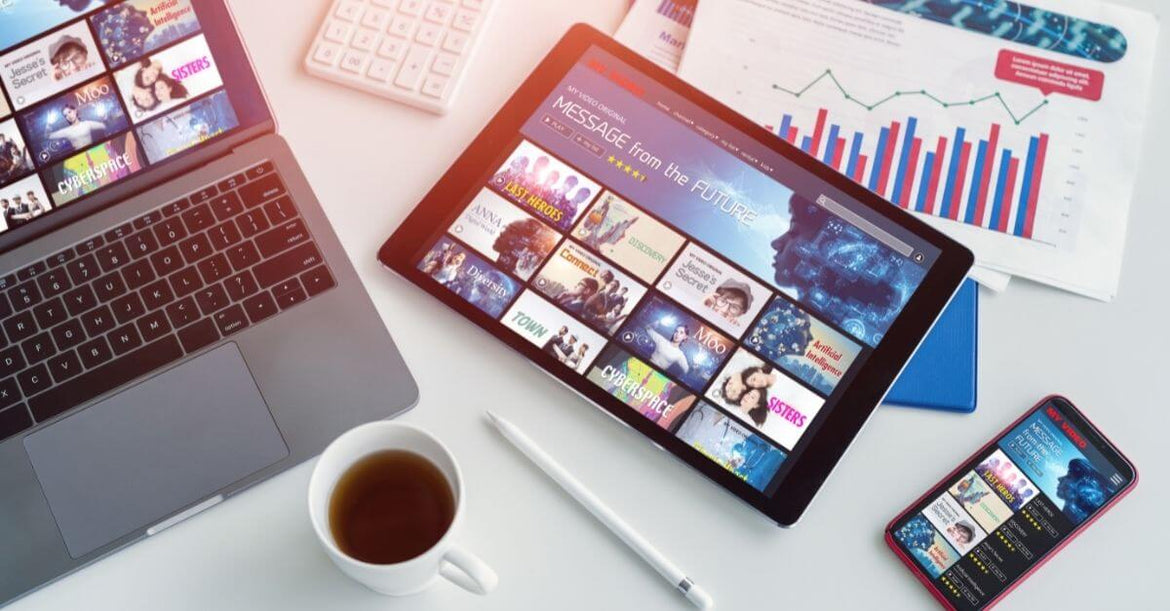 How to Get Faster Video Streaming on Your Phone
If you enjoy the convenience of watching your favorite movies, TV shows, and videos on your smartphone, you're not alone. In fact, approximately 56.16% of South Africans have at least one streaming service.
Unfortunately, watching videos on your mobile phone isn't always seamless. Buffering can cause delays, which is frustrating. So, why do videos buffer? In this article, we'll explain what causes buffering and how to get faster video streaming on your iPhone or Android device.
Why do my videos keep buffering on my iPhone or Android?
Streaming service providers such as Netflix and Showmax deliver content to smartphones, computers, and tablets for viewer consumption. At times, however, the video may still buffer.
For example, if you're watching a movie during peak viewing times between 7 pm to 11 pm, the increased traffic during these busy periods can cause lagging speeds.
If you're experiencing video streaming problems, you may wonder, "how to make my video streaming faster?" To minimize buffering on your phone, here are a few suggestions:
Watch videos during off-peak times to avoid bottlenecks
Download the entire video to your device before playing it
Reduce the quality of the video, decreasing bandwidth usage
Slow video streaming on your phone could also be caused by issues beyond your control; for example, your relative distance from surrounding cell towers. Generally, the closer you are to a cell tower, the better your cell phone signal.
Other obstacles can interfere with your cell reception, such as signal-blocking materials, including concrete, metal, energy-efficient glass, and foam insulation, used in the construction of your home or office building. While these factors may obstruct signal, there are steps you can take to improve video streaming on your phone.
How to get faster video streaming – iPhone
Before you troubleshoot a buffering problem, first, check your internet speed, or bandwidth. Video streaming requires a robust internet connection, and streaming higher quality video requires more bandwidth. For example, to stream in HD, your connection should be at least 5 megabits per second (Mbps). The higher the Mbps speed, the faster your internet will be.
Netflix recommends the following Mbps for streaming content:
5 Mbps – minimum required broadband connection speed
5 Mbps – recommended broadband connection speed
10 Mbps – recommended for SD quality
10 Mbps – recommended for HD quality
25 Mbps – recommended for Ultra HD quality
After checking your internet speed, there are other steps you can take to fix buffering streaming video problems on your iPhone.
Install software updates.

 

Keeping your software up to date ensures your iPhone will run more efficiently. To check for updates manually, go to Settings > General > Software Update. On the screen, you'll see whether your iOS is up to date or if new software is available to install. You can also turn on Automatic Updates for overnight updates.
Close background apps.

 

On your iPhone, you can close applications that are running in the background and slowing your device. From the home screen display, press the home key twice to view recent applications. Swipe each app upward to close it. Press the home key once to return to the home screen.
Clear browser history.

 

Clearing your browser history and cache deletes saved data that is affecting your video streaming. On your iPhone, go to Settings > Safari > Clear History and Website Data. This step removes your history, cookies, and browsing data that slows your streaming capabilities.
How to get faster video streaming – Android
If you're an Android user, here are a few recommendations to improve video streaming on your phone:
Install software updates. When your Android is running slowly, check to see if a software update is available. Go to Settings > About Device or About Phone (depending on your device) > Software Update or System Update (depending on the OS). On the screen, follow the prompts to complete the new software installation.
Disconnect other devices. Video streaming may be lagging on your Android because other devices are hogging network bandwidth. Disconnect smartphones, laptops, tablets, and other smart devices that are not in use. You'll experience faster speeds on your Android phone when your W-Fi isn't overloaded.
Uninstall unused apps.

 

Unwanted applications on your Android can slow video streaming. Check your list of apps and delete or uninstall the apps you don't use. Over time, your phone also collects cached files and

 

data

 

you don't need, so it's a good idea to clear browser history and cache periodically to improve your video streaming quality.
How to get faster video streaming with Bolton Technical cell phone signal boosters
As outlined above, there may be several reasons why your video keeps buffering and why you're getting poor cell signal on your phone. If you've tried the above-mentioned strategies to improve streaming capabilities, but are still experiencing lagging speeds, you may want to consider purchasing a cell phone signal booster.
Whether you need an in-home or in-vehicle solution, Bolton Technical's cost effective signal boosters work with all devices and networks to ensure you always have a reliable cellular connection.
Home Signal Boosters for iPhone and Android
Depending on the size of your home and your specific needs, Bolton Technical offers different multi-user boosters, or amplifiers, that improve video streaming for iPhone and Android users while on the cellular network; regardless of the carrier or service provider:
Vehicle Signal Boosters for iPhone and Android
weBoost also offers in-vehicle cell signal boosters to improve cellular connectivity in your car, truck, or SUV when you're on the go:
weBoost Drive AM100-Pro is our most powerful cell signal booster that delivers the strongest possible cell coverage while on the road, especially in remote areas where signal is weak.