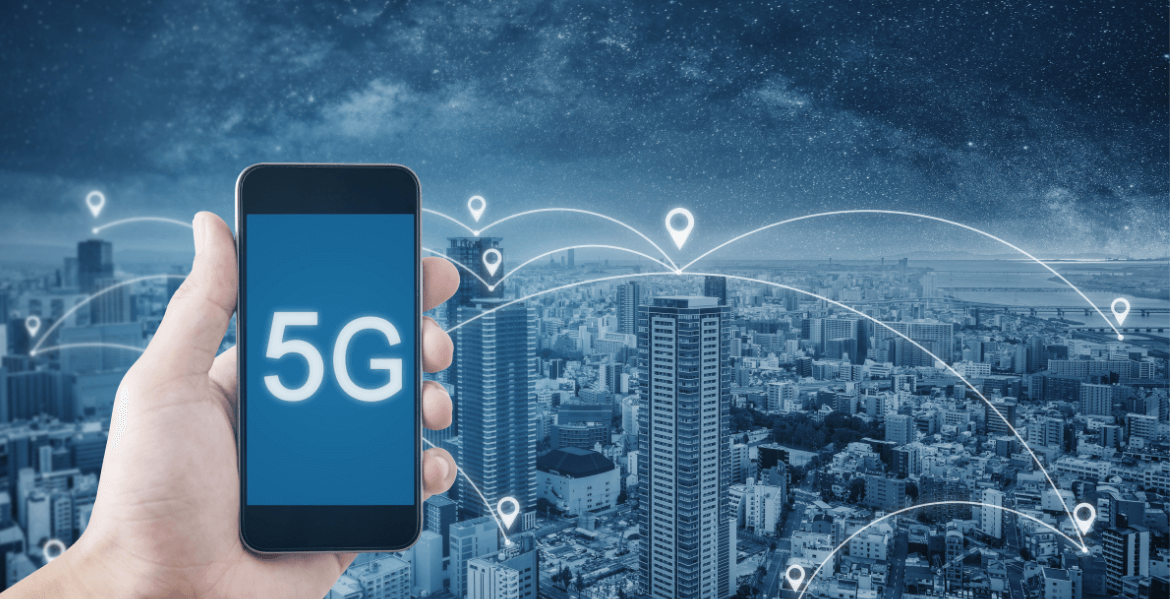 5G in South Africa: What You Need To Know
What is 5G Technology?
Fifth-generation wireless technology is coming. 5G brings the potential to unlock incredible new digital technology including self-driving cars, drone deliveries, artificial intelligence and smart, connected cities to name but a few. These technological advances will be made possible by ultra-fast data speeds which 5G promises, and will be hundreds of times faster than today. 
One extremely important fact that's often overlooked is that 5G is a standard, meaning there is a definitive data speed which carrier networks must meet in order to be recognized as true 5G. Therefore, we can expect carriers to come up with various 5G-ish marketing phrases to let us know that the speeds we're receiving are faster than 4G...but not quite 5G. Even if we start seeing 5G compatible devices, don't expect true 5G for a number of years.
5G is totally different from the technologies that came before it. It shouldn't be thought of as a spectrum or network, this technology has various functioning layers, so think of it more as a platform
Some 5G Technologies to look forward to:
5G's super-fast speed will bring ultra-low latency which will make technologies such as self-driving cars, remote gaming, quick responsive flying drones, and remote medical procedures a possibility.

Facebook-backed Telecom Infra Project (TIP), which aims to change the way networks are deployed using a community-driven R&D approach.
When should we expect 5G in South Africa?
Rain currently offers the widest coverage area of fixed home 5G services available in certain areas of Johannesburg, Tshwane and Cape Town.
As of June 2020 MTN started offering their fixed and mobile 5G services in major city areas in Gauteng, Western Cape and Kwazulu-Natal. MTN offers a range of 5G cellular phones and modems, as well as 5G contract deals.
Vodacom also followed with similar offers for fixed and mobile 5G services, however due to the limited 5G coverage areas, mobile 5G services are less relevant at this point, due to the limited presence of 5G infrastructure (coverage) in South Africa.
Worldwide, the release of 5G spectrums has led to more affordable and faster mobile data services due to increased competition and innovation. South Africa might be a step behind as we face issues with the regulation on the spectrum frequencies required. Data is expensive for many reasons in South Africa, but the shortage of spectrum is an important one.
Another issue that sets us back and contributes to the shortage of spectrum is that South Africa did not adhere to the worldwide agreement to switch off analogue television services and replace it with digital terrestrial broadcasting in 2015. It could easily take up to two years to revise channel plans and move broadcasters out of the analogue bands, to free up the frequencies.
ICASA has now started the much-awaited 4G-spectrum auction, which will free up much-needed frequencies and have a positive influence on data prices and future 5G development.
When will 5G-compatible cell phones be ready?
5G-compatible or 5G ready devices are here.
About 20 cellular phone manufacturers, including, Samsung, LG, and Huawei, launched 5G-ready handsets in 2019. Due to the additional component costs for the 5G smartphone, it could cost a bit more than a 4G phone.
Apple has a history of waiting on mainstream adoption, so the first 5G-compatible iPhone won't be available until at least 2020 or 2021.
As for growing pains, the first generation of 5G phones will most likely be network operator-locked because of the variety of different frequencies each network is using to deliver 5G. Current hardware has limitations to support them all. However, 5G network unlocked phones will happen after the technology is fully available.
What will happen to 4G?
A brief bit of history first: 4G is a specification laid down by the International Telecommunications Union (ITU) in 2008. It stipulated a minimum specification of 100 Mbps download speed, which, at the time, was extremely hypothetical. LTE was the stop gap term cellular carriers came up with to show that their networks were more powerful than 3G, but not true 4G.  In fact, carrier networks today are only just now realizing true 4G, many years later. 
In other words, 4G and LTE are not going anywhere anytime soon.
While true 5G is expected in major urban cities such as Johannesburg, Cape Town, and Durban during 2021 and 2022, full nationwide rollout to rural areas won't most likely happen until 2030.
In fact, 4G and LTE is still being built out and won't peak until 2028. Improvements like LTE-Advanced and LTE-Advanced Pro support data rates up to 3 Gbps which is 5G-like speeds. Many networks have stated the importance of 4G and LTE coverage until 5G fully matures, which some predict to be 2035 to 2040.
So yes, 4G LTE will be around for at least another decade or two. Looking for an 4G LTE Signal Booster?
We Offer Signal Boosters for the following Networks:
For Homes, Offices, Small Rooms or Vehicles.
Any other questions? Get in touch with our awesome technical support team on +27 11 749 3085 or email us.