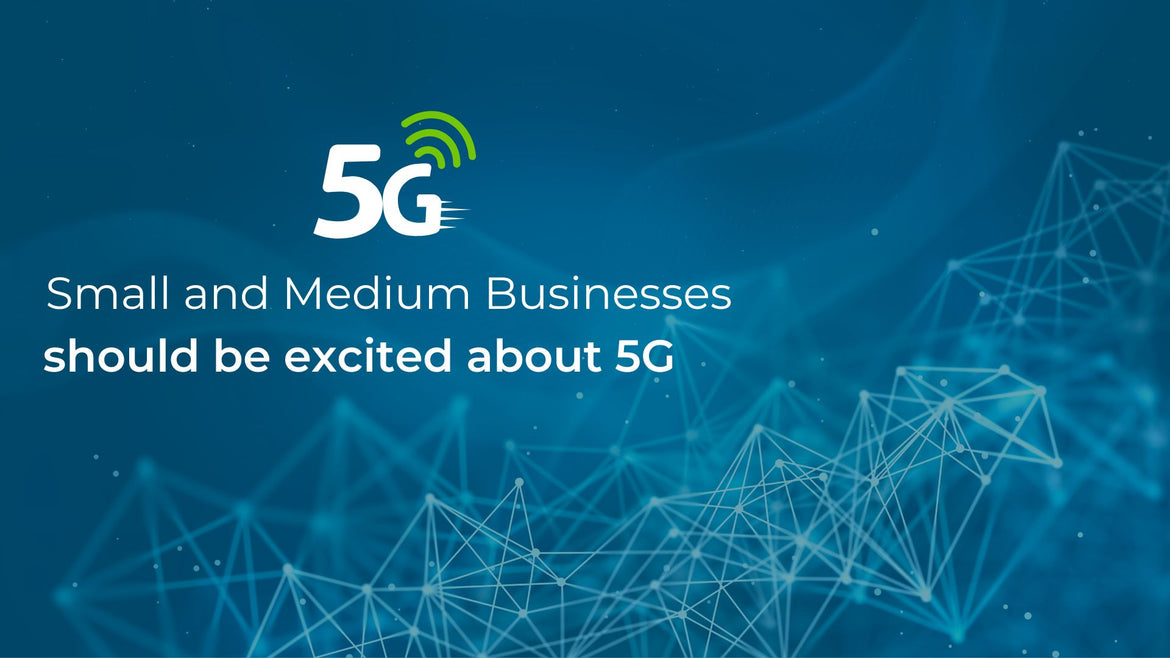 5 Reasons Small Business Owners Should Be Excited About 5G
5G is ground-breaking Technology not only for individuals but also for the South African economy. As 5G continues to deploy, businesses of all sizes will see amazing advantages from being early users. To stay competitive, small- to medium-sized businesses (SMME's) should acquaint themselves with the wonderful opportunities 5G presents. 
If you have not yet made your business 5G ready, then we will show you why you need to. Here's a look at some reasons small and medium sized businesses should be excited to integrate 5G technology into their daily operations. 
1. It Enhances Customer Experience
The pandemic forced SMME's to change the way they do business. Since the pandemic, Customers expect seamless digital experiences when interacting with both large and small companies. For that reason, it's important to recognise that 5G is not just for large corporates. Small businesses can and need to look to new technology to engage with their buyers. Customer experience can be improved with strong network connection. connectivity is incredibly important to consumers. 
For any industry, 5G allows for greater customisation and communication capabilities for small businesses to engage with customers.
2. 5G Improves Security
As devices and users become increasingly connected, advanced security protocols is needed. Fortunately, 5G comes with high-speed, low-latency and high-density,  performance. Taken together, enhanced network performance means stronger security and privacy controls to protect both small businesses and their customers. 
In comparison to previous generations, 5G networks come with stronger data encryption and enhanced user verification. This means that your business can better inspect data, locate potential threats, and increase security for end-users on your network. 
3. 5G Boosts Productivity
By taking advantage of the capacity and speed of 5G, your staff will be able to provide quicker turnarounds for their day to day tasks. The ability to inspect the speed of web pages loading in real time, view downloads for business-related apps, or simply receive and comment on an important business document, all contribute to productivity.
Post Pandemic, many companies still allow their employees to work from home. Whether employees work from home fully or a few days out of the week, flexibility in the workplace is likely to continue. Rapid, more reliable 5G connections means that your remote employees and office can work flexibly and stay productive. 
Whether we see this play out in home offices or in your business location, 5G will keep your team connected no matter where they work.  
4. 5G Creates an Intuitive Supply Chain
Real-time data is essential to SMME's success. The lockdown revealed the need for more efficient supply chain tracking and logistics. 5G's improved connectivity allows vital, real-time data to move between suppliers, distributors, retailers, and customers. 
In-vehicle telematics require a stable connection to receive precise data. When these devices work as intended, businesses have everything they need to make data-driven decisions, cut costs, and boost profits. 5G comes with enhanced bandwidth, data rates, and capacity to improve supply chain logistics and communication. 
As 5G becomes more widely adopted, small businesses will be able to provide a faster, safer and more convenient purchasing experience for their customers.
5. 5G Future-Proofs Your Business
SMME's and entrepreneurs must keep up to date with technology to grow and stay competitive. The ability to collect more data, more quickly, and put it to work for your business and your customers is one of many benefits of 5G for business.
From supervising production remotely, observing warehouse inventories, and ensuring fast deliveries to customers, 5G-powered technology helps SMME's solve real time problems. Ultimately, digital-transformation is vital to development and weathering future market disruptions. 5G enables that transformation. 
5G is the next generation of wireless network technology that will inspire innovation, enhance productivity, make industry smarter, and transform the way we live, work, and play. Small business owners have a lot to be excited about when it comes to 5G technology.
How May We Help You?
Bolton Technical is a leading provider of cell phone signal boosters, devices that amplify 4G & 3G LTE for any phone with any carrier for home, office, or car. We've boosted over 1,000,000 m² of signal for homes, buildings, and vehicles across America and Canada and now that same power is boosting signal across South Africa.
Free consultation (ask us anything) with our South African-based customer support. Email us or Call us today.
Free shipping over R500 to Major South African cities. Usually ships same day.
30-day money back guarantee. You want to make sure you're satisfied.
Our goal is simple: keep people connected. Ask us anything and we'll be glad to help.