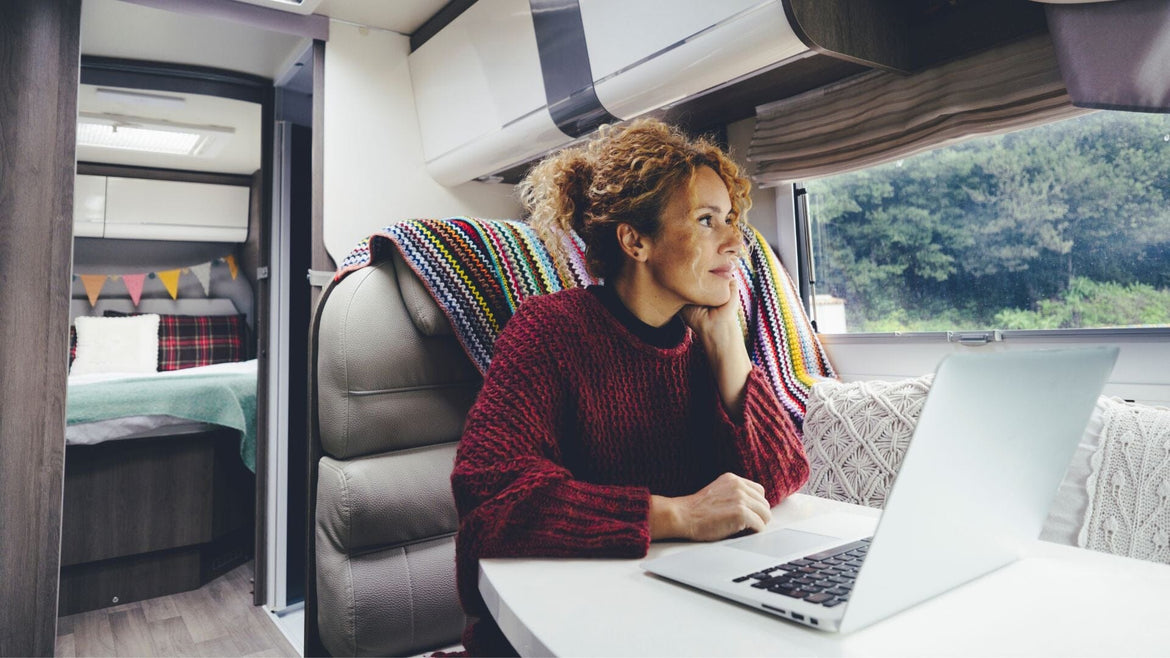 11 Jobs You Can Do on the Road With a Cell Phone Booster
To say that technology has transformed the workplace is an understatement. It has not only changed the way people work and do business but also revolutionised where we work from.
After the global pandemic, the rise of nomadism and freelancing is evident. In South Africa, there has been a significant increase in digital nomads who choose to work remotely while traveling in caravans. If you own a caravan, it's likely that you enjoy traveling and staying connected to the outside world using your smartphone, tablet, or laptop with a reliable cell signal.
Having a strong and reliable cell signal on the road opens up various career options that support your travel lifestyle. If you can maintain an online presence, here are a few remote-work friendly jobs to consider.

Freelance Writing
Many full-time travellers in South Africa find work as freelance writers. Numerous companies and online publications are in need of talented writers to create web content, marketing materials, and more. You can find opportunities to write about camping, outdoor activities, and travel experiences that align with the caravan lifestyle.
Full-Time Blogging
As a full-time blogger, you can share your skills, knowledge, experiences, and unique perspective on life to build an online audience. Blogging doesn't require extensive technical knowledge or coding skills. With a website and marketing savvy, you can establish a following and develop your online presence. Consider focusing on travel and recreational topics that align with your interests.
Transcriptionist
If you enjoy typing and have excellent attention to detail, becoming a transcriptionist is an option. You can transcribe video content into written documentation for businesses.
Bookkeeping
For individuals with accounting skills and a good grasp of numbers, bookkeeping is a viable job option. With a WiFi hotspot and a caravan cell signal booster, you can perform bookkeeping tasks remotely.
Virtual Assistant
As a virtual assistant, you can provide various remote services such as customer support, social media management, and more. Many companies and business owners are open to contracting virtual assistants who can work online.
Travel Vlogger
If you enjoy sharing your travel experiences, consider becoming a travel vlogger. You can create video content and share it on platforms like YouTube or TikTok. As your audience grows, you can earn money through advertisements or collaborations with companies.
Online Tutor
Online tutoring is another remote job option. You can provide tutoring services in specific subjects and interact with students through online platforms.
Web Developer
You can work as a web developer remotely by collaborating with clients via email and phone. Your clients can provide feedback on design changes easily, and you can find online resources for guidance and support.
Proofreading and Editing
If you have a keen eye for detail and a strong understanding of grammar, you can offer proofreading and editing services. With the rise of self-published e-books, there is a demand for skilled editors in South Africa.
Graphic Designer
If you have a knack for colours and layouts, graphic design offers flexible opportunities for digital nomads. You can work on various design projects, including logos, branding, magazines, and flyers, from anywhere with a computer and an internet connection.
Translator
If you are fluent in multiple languages, you can work as an online translator. Translation services are in demand for websites, marketing campaigns, books, and movies.
Recommended Signal Booster Solution for Vehicles and Caravans

Best Signal Booster for your vehicle
weBoost Drive AM100-Pro Signal Booster Kit
Most powerful vehicle signal booster
Boosts 4G LTE, 3G and 2G for multiple users in a vehicle
Works for any phone using MTN, Cell C,
Vodacom and selected Telkom bands
Complete kit, easy to install.
Better voice, text and internet guaranteed.
To make the most of these remote job opportunities, it's essential to stay connected to the internet and maintain a strong cell signal while on the road. Consider investing in a caravan signal booster from a reliable brand like weBoost to ensure a reliable and stable connection throughout your journey.
By embracing remote work and leveraging technology, you can make the world your office and enjoy the freedom of working while traveling in your caravan.
How May We Help You?
Bolton Technical is a leading provider of cell phone signal boosters, devices that amplify 4G & 3G LTE for any phone with any network provider for home, office, or car. We've boosted over 1,000,000 m² of signal for homes, buildings, and vehicles across America and Canada and now that same power is boosting signal across South Africa.
Free consultation (ask us anything) with our South African-based customer support. Email us or Call us today.
Free shipping over R500 to Major South African cities. Usually ships same day.
30-day money back guarantee. You want to make sure you're satisfied.
Our goal is simple: keep people connected. Ask us anything and we'll be glad to help.