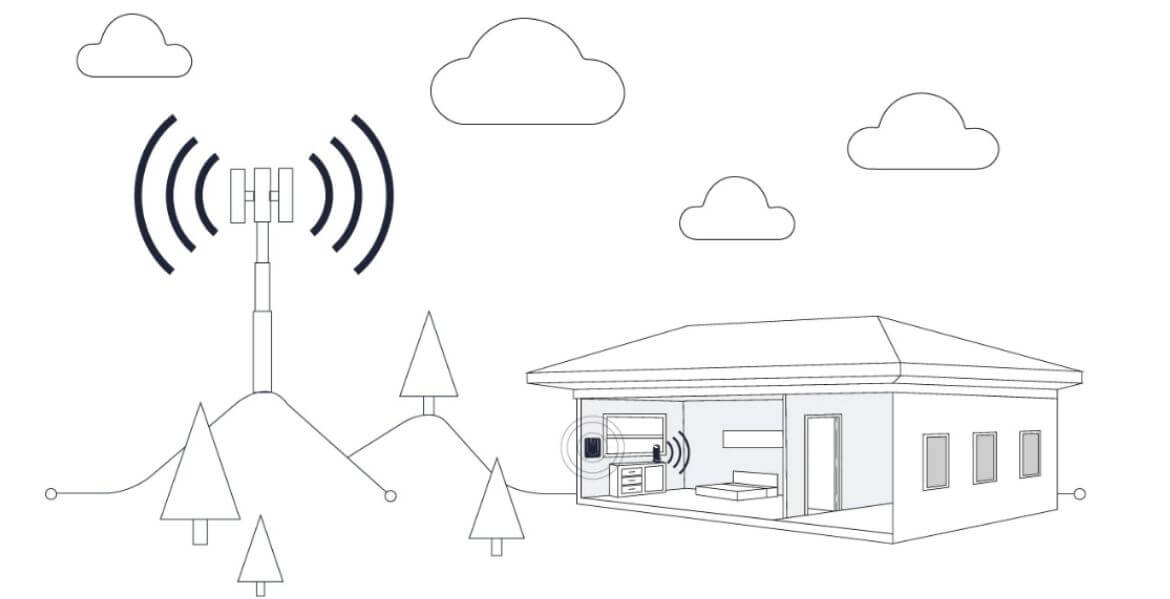 Why Cell Phone Signal Boosters Don't Work Outdoors
We frequently get asked: " Why can't I install a signal booster outside?" or "Are there outdoor signal boosters?". Unfortunately signal boosters are made to work in enclosed spaces. Cell Phone signal boosters work inside where their radio waves (AM/FM type waves) can bounce off walls and other material that contain the signal inside. 
Read more: "The science behind cellular amplifiers" 
They don't work outdoors as it would lead to "open air path loss" of your signal - meaning you would have to be right next to the antenna to benefit from the boosted signal, as the signal would disappear into the open air, without being contained inside a home or vehicle.
Besides being less efficient in their performance outside, when compared to in-building or vehicle signal boosters, mobile service providers don't wan't signal boosters re-broadcasting signal outside. This is due to the risk that deploying a signal booster outside could significantly increase the "noise" on the network and affect the cell network and cell towers in an adverse way. If you live in a remote area with a high number of people sharing the same tower, this can negatively affect everyone's coverage.
Signal boosters are incredibly useful in cases where there's underdeveloped infrastructure. However, there are other necessary factors that we must consider when purchasing a cell phone signal booster.
The most important of these is whether or not you have an existing signal. If the reason you're looking to boost signal outdoors is that you don't have any, you won't be able to boost it indoors, either. Cell phone signal boosters require existing signal to function.
Another is the size and layout of the area you're trying to cover. While boosters advertise their power in square meters, interior layout and the shape of your building will affect how much coverage you'll receive.
How Does a Cell Phone Signal Booster Work?
We've written many articles on how signal boosters work, but in short: inconsistent cell signal (due to various factors) is what causes your poor reception, and this means the installation of a cell phone signal booster is essential to improve your cellular reception. 
This may be the only way to make calls in certain areas. This is especially true in secluded areas far from cell tower infrastructure or in buildings made of certain materials.
A signal booster picks up an existing cellular signal, amplifies it, then rebroadcasts it. Imagine that someone (the cell tower) whispers something to someone else (the signal booster), and they shout it with a megaphone. This is how a cell phone signal booster works. People in remote areas may want consistent cell signal everywhere - including outdoors - but legal signal boosters, sadly, can't provide that due to their limited power.
Antenna Location is Crucial
As mentioned before, cell phone signal boosters reach further into the distance with their powerful antennas and bring in existing outdoor signal, which is amplified, then re-broadcasts the stronger signal within the home or vehicle. For it to work correctly, you have to receive the cell tower's signal with enough strength. 
In other words, for best performance the amplifier has to receive the signal correctly, so you cannot place it too far or near from the rest of the signal booster system. During the configuration, the amplifier itself tells you, indicated by the lights on the device, if it's receiving the signal properly or not. Read more: How To Install Your Signal Booster.
Try different locations until you find a spot where the antenna receives signal at the maximum possible strength. Indoors, you might have to trail different spots for the broadcasting antenna too, for maximum results. It may seem silly, but a bit further to the left or the right can make the signal dodge an obstacle (a door, a wall, etc.), which means the cell phone signal booster can have much more range. As we mentioned, the best location for the broadcasting antenna will be indoors, since signal boosters don't work outdoors.
OK, Outdoor Signal Boosters Are Not Viable. Which Signal Booster Would You Recommend?
Every cell phone signal booster fulfills the same primary function, but there are some differences between them. 
The WilsonPro A500 covers up to a 500m² area, perfect for your average sized home or office and has many expansion kit offerings for multi-story or sprawling homes. If you are only looking for spot coverage, desktop coverage or a single room solution we would suggest the weBoost AH100-Pro.
The WilsonPro A1000 is also a great choice for larger buildings and homes. It has a range of up to 1000m². This model is the best choice if you need powerful coverage for weak outside signal, or for covering larger areas. The device has a number of different antenna and configuration options, so you can find one made for your precise needs.
If you are looking for a signal booster to keep you connected while on the go, look no further - The weBoost AM100-Pro is the first wide-band vehicle cell signal booster on the SA market, and provides seamless connectivity while on the road for up to 4 users.
Keep in mind that your cell phone signal booster will work optimally only if you're getting decent external signal strength. Can you use your phone outside of your house but not on the inside? This means a cell booster is exactly what you need.
Remember, building material can hinder your reception. Fortunately, cell phone signal boosters can go through those obstructions with ease. Cell phone signal boosters are great at amplifying 2G, 3G, and 4G LTE signal for remote or urban areas; however, you need at least some external signal for it to work with. So, if you find yourself wishing you had a signal booster in your backyard...odds are, you're too far away from usable signal, and it's not  really a viable option, due to signal loss in open air spaces.
Bottom line
Cell phone signal boosters won't work outdoors for a number of reasons - including power concerns, effectiveness, and some legal reasons - but they do work extremely well indoors. If you need cell phone signal in your area, get it boosted indoors.
How May We Help You?
Bolton Technical is the leading provider of cell phone signal boosters. Cell phone boosters amplify 2G, 3G, and 4G LTE for any phone with any mobile network for home, office, or vehicle.
We seriously hate dropped calls and poor coverage, so it's our goal in life to stomp on spotty signal like the little roaches they are:
Free consultation (ask us anything) with our JHB-based customer support (

sales@boltontechnical.co.za

) or call us at 

+27 11 749 3085.

Free shipping on all orders over R500 to Major Cities.

Better signal or industry-leading 30 money-back guaranteed. No questions asked.

We want everyone to be satisfied, so we provide lifetime technical support and a 1-year warranty for all products.
Ask us anything and we'll be glad to help.