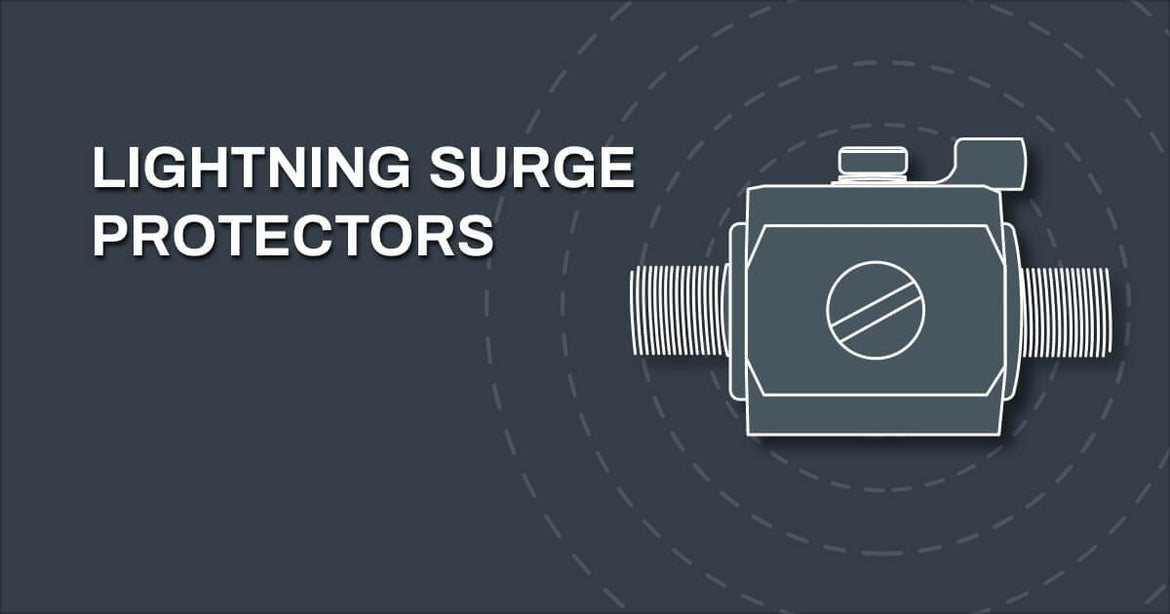 Lightning Surge Protectors: A Great Insurance for Signal Boosters
A lightning surge protector is a recommended accessory for any home, office or vehicle WilsonPro or weBoost cell phone signal booster. 
Placed between the outside antenna and amplifier, should lightning strike your outside antenna, the lightning surge protector will discharge any power surge, saving you hundreds if not thousands of rands of equipment. 
And when paired with a quality surge protected power strip of at least 1000 Joule rating, you'll have the ultimate peace of mind especially if you live in an area with frequent thunderstorms since tall metal objects (like the outside antenna) have a higher tendency to be magnets for lightning strikes. 
Lightning surge protectors come in two types: a 75 Ohm and a 50 Ohm version.
The 75 Ohm is compatible with RG-6 and RG-11 cables fitted with F-Female connectors. Basically, these are normal coaxial cables found in most homes and residential areas and used for cable/satellite TV and internet routers.
The 50 Ohm is compatible with Bolton400 or LMR400-like cables fitted with N-Female connectors. These are pro-grade cables. Much thicker and more powerful (less signal loss) with longer cable run.
Please be aware of your cable connector type before purchasing a lightning surge protector.
OVERVIEW:
Model #: BT512068
Impedance: 50 Ohm
Connectors: N-Female Connectors
Cables: Bolton400 or LMR400-like
Compatible with the following Signal Boosters:
It has an attenuation of less than 0.2dBN-Female connectors, the common type of connectors & cable (Bolton 400 or LMR400-like) used in pro grade installations.  
It has an attenuation of less than 0.2dB making signal lost unnoticeable and a frequency range of up to 3GHz, making it compatible with every 50 Ohm solution on the market.
It uses a replaceable gas discharge unit which can be purchased from Bolton Technical in case your outside antenna is struck by lightning.
How We Can Help:
Bolton Technical is the leading provider of cell phone signal boosters. We amplify 3G & 4G LTE for any phone with any network for home, office, or vehicle.
Free consultation (ask us anything) with our local customer support (sales@boltontechnical.co.za).

Free shipping on order over R500 to main SA cities.

Better signal or money-back guaranteed.
We want everyone to be satisfied, so we provide lifetime technical support and a 2-year warranty.
Ask us anything and we'll be glad to help.
Need help? Email us today (sales@boltontechnical.co.za) or give us a call at 011 749 3085
A cell phone signal expert will gladly assist you in getting better signal instantly.