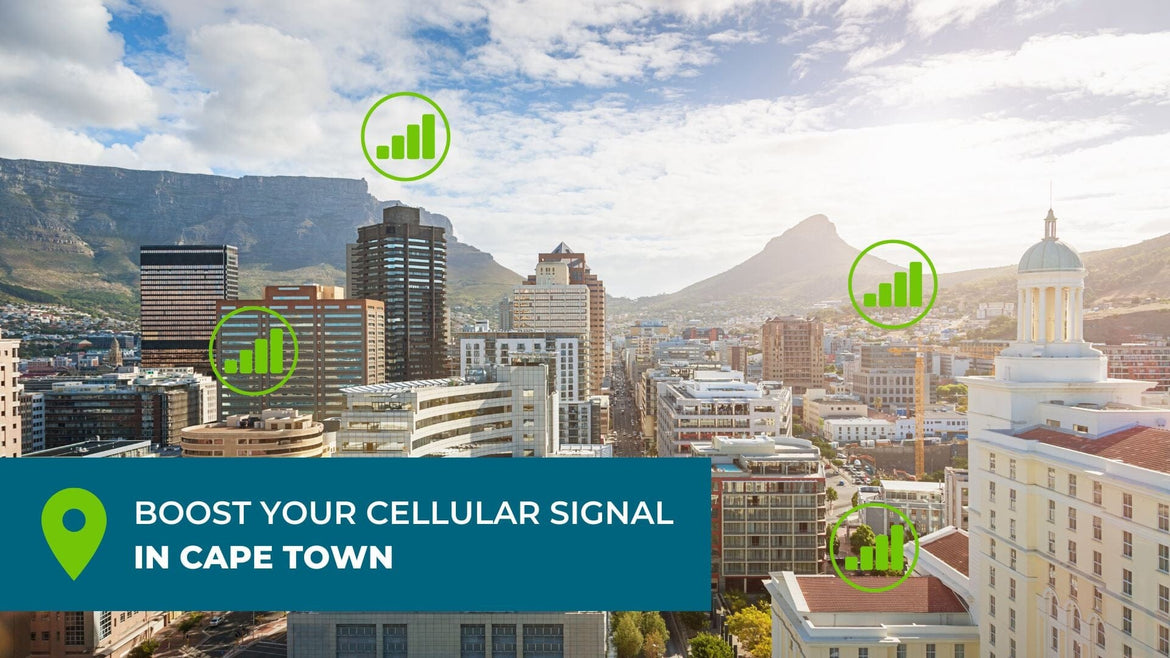 Bolton Technical Expands to Cape Town, Delivering Reliable Cellular Coverage Solutions
We are thrilled to announce the launch of our new office in Cape Town, as Bolton Technical expands its footprint to meet the increasing demand for reliable indoor cellular coverage in the Western Cape. With our industry-leading cellular repeater technology, we provide best-in-class, commercial-grade cell phone signal boosters that offer a powerful solution for businesses and fleets struggling with weak or non-existent indoor and outdoor cellular signals.
At Bolton Technical, we are proud to reveal our updated range of WilsonPro and weBoost amplifiers. These cutting-edge products align with the ongoing rebranding and positioning efforts of our manufacturer, Wilson Electronics, in the United States. Featuring a modern, minimalistic design, our cellular amplifiers provide end-users with a simplistic and straightforward solution to enhance their cellular signals.
One of the key advantages of our Wilson Electronics amplifiers is their seamless plug-and-play functionality. Designed with user convenience in mind, these products deliver consistently stronger cellular signals without the need for any programming or interface setup by the end-user. This user-friendly approach ensures a hassle-free installation experience for businesses and fleets, saving valuable time and resources.
With an impressive 35-year track record, Wilson Electronics has established itself as a global leader in cellular repeater technology. Our dedicated teams of innovative engineers continuously strive to improve and create new wireless communication technology. We focus on enhancing and rectifying weak points in current RF system designs, making us pioneers in 5G booster technology worldwide.
Among our amplifier brands is the WilsonPro line, designed to bring existing cell signals indoors, covering buildings up to 1000 square meters. These powerful cellular repeaters boost voice and 4G LTE data signals on frequencies including 900MHz, 1800MHz, and 2100MHz. Rest assured, our amplifiers are compatible with all major South African mobile network operators and have been approved by ICASA, ensuring optimal performance and reliability.
In addition, weBoost, another brand under the Wilson Electronics umbrella, introduces the Drive AM100-Pro. This innovative amplifier is specifically designed to boost 2G, 3G, and 4G LTE signals in any vehicle, ensuring enhanced voice and data cellular signals on multiple frequencies. Whether on the road or at the worksite, you can stay connected wherever your journey takes you.
We understand the challenges posed by poor cellular coverage, influenced by factors such as insufficient infrastructure coverage, distance from cell towers, tower load, continuous load shedding, and physical barriers obstructing cellular signals. Since 2017, Bolton Technical has been at the forefront of integrating and supplying cell phone signal booster solutions, catering to the growing demand for improved cellular coverage for buildings and outdoor signal needs.
Our new office in Cape Town represents a significant step toward addressing the challenges of weak indoor and outdoor cellular coverage in the Western Cape. What sets us apart in the market is our ability to provide turn-key solutions, encompassing the entire process of designing and installing our own systems. With a team of highly skilled and experienced installers, we ensure a seamless experience for our clients, guaranteeing optimal performance and reliability.
Starting with a meticulous assessment of your requirements, our expert teams develop tailored RF solutions that optimize signal strength and enhance connectivity. From the initial design phase to installation, we take care of every aspect of the project, so you can focus on what matters most - your business.
We also offer outdoor RF solutions for vast open areas, employing sector masts, along with specialized offerings tailored for the mining sector. Our comprehensive range of services caters to diverse cellular coverage needs across different industries.
As a giant in the field of cellular components, Bolton Technical is a leading supplier of RF accessories, antennas, and cables. With extensive operations throughout Africa and distribution hubs in the USA and South Africa, we ensure prompt and efficient delivery of our high-quality products and solutions.
For further information on our range of amplifiers, including WilsonPro and weBoost, feel free to contact our dedicated customer support team in Cape Town. You can reach us via email at sales@boltontechnical.co.za or by calling 021 879 3057. We are here to assist you in finding the ideal cellular coverage solution for your needs.
Stay connected with Bolton Technical and experience the power of reliable cellular coverage.