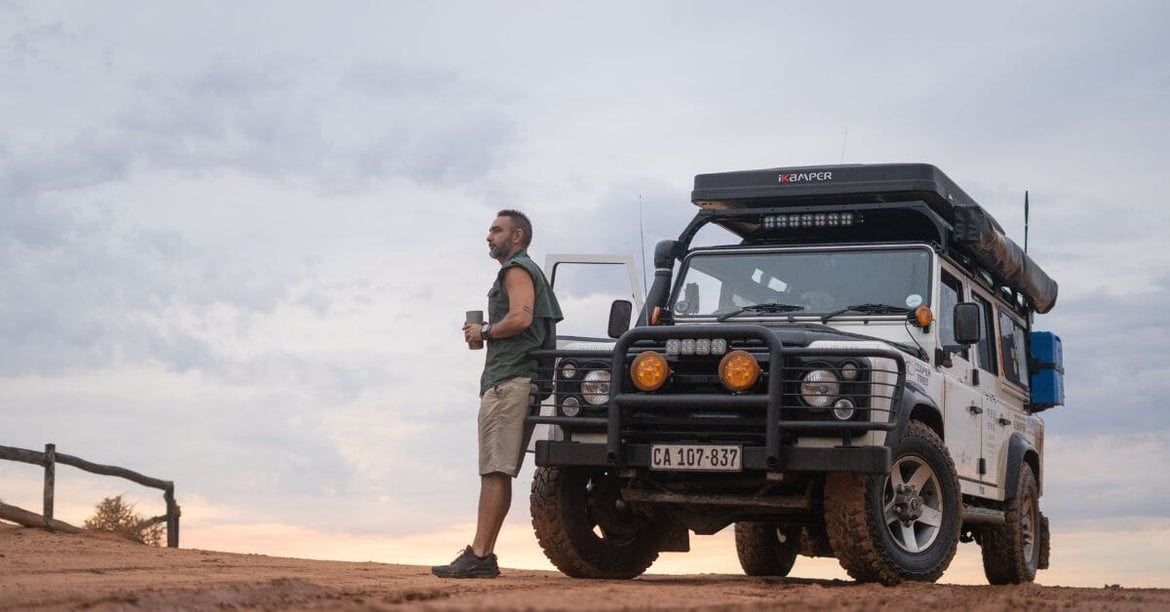 Introducing The Blade - The Ultimate Cellular Vehicle Antenna for South Africans
As a South African, staying connected on the road is crucial, and having a reliable antenna is key. That's why we're excited to bring you our latest offering - a game-changing antenna designed exclusively for you.
Our new antenna is guaranteed to keep you connected no matter where your journey takes you. With its cutting-edge design, it works seamlessly with any signal booster system you're running, making sure you get the strongest possible signal at all times.
We know how frustrating it can be when your antenna whistles, sways, or just doesn't perform as it should. But with The Blade, you won't have to worry about any of that. It's whistle-free and designed to remain steady even at high speeds, ensuring that you stay connected no matter what.
Not only is The Blade versatile, but it can also be mounted in several different ways, making it suitable for any type of truck. Whether you have a Bakkie, SUV, or an 18-wheeler, we have got you covered.
Plus, with 5G support and compatibility with 4G and LTE, you can rest assured that you're getting the latest and greatest in antenna technology.
The Blade connects directly to your signal booster system, amplifying outside signal and ensuring that you have a strong connection, no matter where you are in South Africa. And the best part? It works with any booster system, across all mobile networks in the country.
For those of you driving in low signal or remote areas, magnet mount antennas are the way to go. The Blade can be attached to the highest part of your vehicle's roof, ensuring that it gets the best signal possible. And if you have a cab that is metal, you won't find a better performance than with a magnet-mounted antenna.
The Bolton Blade is 5G ready and supports 4G and LTE, making it the ultimate antenna for South African truckers. Its beautiful design takes into account the specific needs of truckers at every step, ensuring that you stay connected no matter where you are in the country.
If you're a South African looking for a reliable, versatile, and specially designed antenna, look no further than The Blade. With its advanced technology and robust build, it's the ultimate solution for staying connected on the road.
Pair your Blade Antenna with the Best 4x4 Vehicle booster on the market - The weBoost Drive AM100-Pro.
With up to +50 dB's of gain, this booster greatly enhances 4G LTE and 3G cell service for all your wireless cellular devices on any carrier in South Africa. And the best part? There are no monthly fees, and it doesn't need to be connected to any internet source to work. It simply amplifies your existing in-vehicle cellular service up to 32X for better talk, text, and faster internet.
The weBoost Drive AM100-Pro is perfect for people needing better signal on the road. It reaches farther to and from the cell tower for reliable reception, improved calls, and faster data. It supports up to 4 phones or cellular devices with whole coverage inside a typical sedan, SUV, or midsize car. And it's also great for caravans, trucks, and boats (inside cabin) for desktop-size coverage.
But what about coverage area? Actual results may vary depending on your outside signal strength and unique factors, but the weBoost Drive AM100-Pro is the best choice for better 3G & 4G LTE coverage for maximum convenience on the road. It solves three common problems for poor cellular reception in a car: cell tower distance, outside interference, and car materials.
So say goodbye to no signal on the road and hello to consistent delivery and service.
Need Help Finding the Best Antenna for Your Needs? Contact Us
Bolton Technical is a leading provider of cell phone signal boosters for homes, vehicles, and commercial buildings. We specialize in consumer-friendly kits as well as customized RF systems for cellular, public safety two-way radio, DAS, and WiFi.
We're here to assist with any issues you might be experiencing with poor cell service. Contact us today, or call us at 011 749 3085.