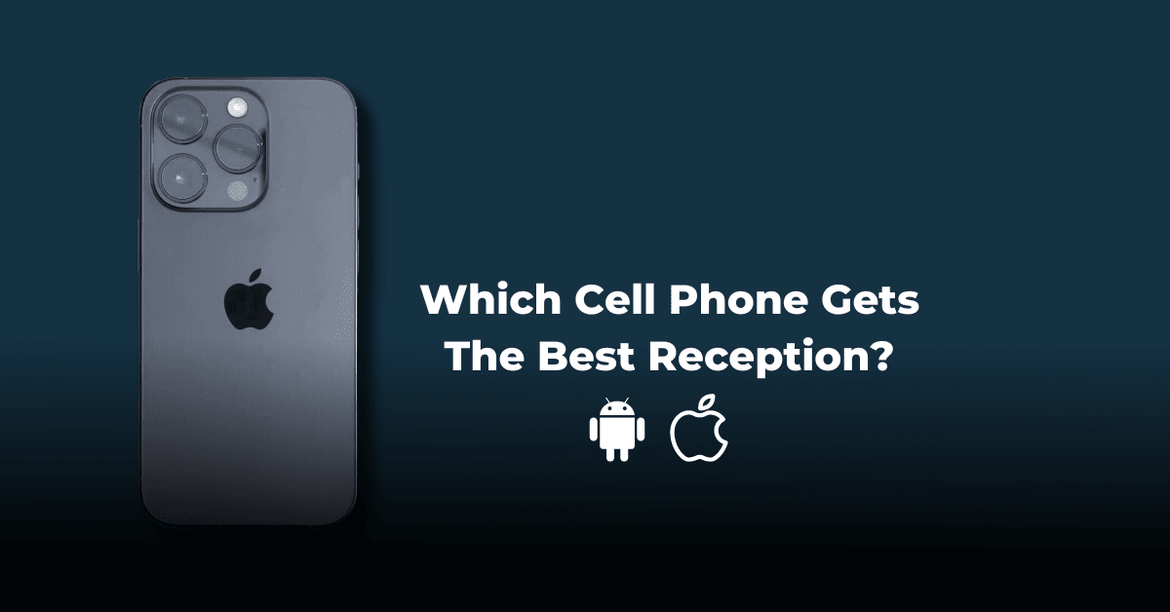 Which Cell Phone Gets The Best Reception?
Is it True that Android Phones get Better Reception than iPhones? We've taken our fair share of deep dives into what makes cell phone reception go bad, how you can improve your signal, and which network provider has the best coverage in your area.
But what about your smartphone itself? Do different brands get different signals? And which type of smartphone gets the best reception?
The answer may be surprising, but perhaps to be taken with a grain of salt.
Android vs. iPhone Cellular Reception Study
For Commercial Android vs. iPhone Cellular Reception Study PCMag tested the iPhone XS, iPhone XS Max, iPhone XR, Samsung Galaxy Note 9, Google Pixel 3, LG V40, and OnePlus 6T in 2018. They found that the Samsung Galaxy offered better reception than iPhones. However, the overall best performer was the LG V40.
All tested Apple phones used Intel modems, while all Androids used Qualcomm modems. In general, Qualcomm phones maintained faster speeds longer and managed to work faster than Intel-powered iPhones in very low-signal conditions. Due to Qualcomm's LTE-Advanced technology, and Apple's hesitancy to roll out new technology the second it becomes available, Android phones pulled ahead in the reception race.
Does this mean Android phones get better reception than iPhones? According to the 2018 study, depending on the device used and signal strength, yes, Android phones have faster cell speeds than iPhones. While the difference is not significant, it can make a difference when trying to stay connected in remote areas.
Unfortunately, there hasn't been a similar study since to test the cellular reception of new flagship devices. However, while we don't have the resources to conduct a thorough analysis, we performed a basic cellular reception test. We compared the iPhone 14 Pro Max and Samsung S22+ using Speed Test by Ookla. Both devices are equipped with Qualcomm's Snapdragon X65 modem.
| | | |
| --- | --- | --- |
| | iPhone 14 Pro Max | Samsung S22+ |
| Signal Strength in dBm | -108 dBm | -108 dBm |
| Average Download Speed | 66.56 Mbps | 65.66 Mbps |
| Average Upload Speed | 1.86 Mbps | 1.56 Mbps |
| Average Ping | 44.4ms | 50.8ms |
In South Africa, the results were similar. On average, the Samsung phone performed slightly better than the iPhone in a -108 dBm (weak) signal environment. However, individual tests showed instances where the iPhone outperformed the Samsung, and vice versa.
Many other comparisons also suggest that the iPhone is superior. With the new iPhone combining a Qualcomm modem with Apple's new A15 Bionic processor, it is possible that the iPhone performs better. However, it's important to note that these tests, including ours, were conducted in controlled signal environments. Real-world results may vary.
So, Should I Switch to An Android Phone? Which Android Has the Best Reception?
So, if you're considering switching to an Android phone, the Samsung Galaxy S22 series has been identified as the Android device with the best reception according to a PCMag study. The S22 devices out performed previous Samsung models and Google's latest Pixel, earning the title of a low-signal beast. However, for casual phone users who primarily engage in activities like calling, texting, streaming, and occasional social media use, you can choose your phone based on personal preference without significant concerns about reception.
In most cases, if you're experiencing slow service, the issue is likely due to weak cell reception rather than the phone itself, unless you are still using a phone that is more than five years old. Upgrading to a newer phone equipped with the latest technology can provide improved speed, as newer phones tap into more cellular frequencies and networks. Weak cell reception is the main factor affecting signal strength, regardless of whether you have an iPhone or an Android.
To improve reception, regardless of the phone you have, you can consider using a cell phone signal booster. The WilsonPro Single Room Signal Booster solution is a popular option for small to mid-size homes, amplifying 5G, 4G, and LTE signals. For vehicles, the weBoost Drive Reach is a highly customisable and powerful signal booster that works for cars, trucks, SUVs, caravans and boats.
Why Don't All Cell Phones Offer the Same Signal Reception? 
Not all cell phones offer the same signal reception because manufacturers prioritize different aspects such as performance, aesthetics, or cost. The quality of reception depends on the antennas, radios, and other components used in the phone, as well as the signal environment.
Which Cell Phone Has the Best Reception in Areas with Weak Signal?
In areas with weak signal, Android devices tend to perform better according to the 2018 PCMag study. Currently, the Samsung S22 series is considered the best Android phone for maintaining a connection in poor coverage areas. However, without an up-to-date analysis, it is not possible to determine the phone that performs best in weak signal areas.
Does a 5G Phone Get Better Reception?
5G phones can potentially experience better reception in areas where 5G is available due to the new technologies and frequencies used, offering faster speeds, lower latency, and higher capacity. They may also have better reception in 4G/LTE areas due to their advanced technology.
Is My Phone Slowing Down My Cell Service?
If you're experiencing slow cell service, it's essential to rule out factors that may interfere with the signal, such as natural phenomena, building materials, or congestion. If none of these factors are causing the issue, you might be too far away from the nearest cell tower, which can impact signal strength. Checking coverage maps and researching different cell phone service providers can help determine if switching to a different provider would improve your reception.
Newer phones generally have better reception than older models. They are designed to tap into more spectrum as new cellular frequencies become available, allowing them to access more networks and capture the best and fastest signals. Phones with the latest technology also tend to maintain a better signal in more places compared to older models.
The quality of a phone's antenna is crucial for reception. While there are not many phone antenna manufacturers, historically, devices using Qualcomm antennas have performed slightly better than those using Intel, particularly in remote areas.
Should I Consider Switching to a Different Cell Phone Service Provider?
Cellular coverage can vary across the country, so before blaming your iPhone or Android for poor signal, it's advisable to conduct some research using coverage maps. Even if you have a top-of-the-line phone, it won't be able to achieve its maximum speeds without a strong signal.
Do Newer Phones Offer Better Reception?
Generally, newer phones do provide better reception compared to older models. They are designed to take advantage of a broader spectrum as new cellular frequencies become available. By accessing multiple networks such as 4G, LTE, and 5G, modern smartphones can capture stronger and faster signals. With cutting-edge technology, these devices can also maintain a reliable signal in more locations and for longer durations than older phones.
Which Smartphone Offers the Best Cell Signal?
Any newer smartphone, whether from Samsung, Apple, Google, or LG, will generally offer you the best signal reception. The specific brand doesn't matter as much as the fact that newer phones are designed to optimize signal strength and connectivity.
Can Cell Phone Antennas Impact Cellular Reception?
The antenna plays a crucial role in your phone's hardware. If a phone manufacturer incorporates a low-quality antenna, it can result in poor cell reception.
In the past, mobile phones had long external antennas to enhance signal capture. However, advancements in technology have allowed for smaller internal antennas, enabling phones to shrink in size and have a more pleasing design. Unfortunately, in some cases, manufacturers prioritize aesthetics over antenna quality.
Additionally, internal RF antennas are more susceptible to external interferences due to their smaller size and placement within the phone's chassis. The iPhone 4's antenna issue is a well-known example of poor signal caused by antenna design and placement. Holding the phone in a specific way could lead to weakened signal reception for many users.
In conclusion, when considering your cell phone service provider, it's essential to factor in coverage maps, the capabilities of newer phones, and the quality of the antenna in your chosen device.
How May We Help You?
Bolton Technical is a leading provider of cell phone signal boosters, devices that amplify 4G & 3G LTE for any phone with any network provider for home, office, or car. We've boosted over 1,000,000 m² of signal for homes, buildings, and vehicles across America and Canada and now that same power is boosting signal across South Africa.
Free consultation (ask us anything) with our South African-based customer support. Email us or Call us today.
Free shipping over R500 to Major South African cities. Usually ships same day.
30-day money back guarantee. You want to make sure you're satisfied.
Our goal is simple: keep people connected. Ask us anything and we'll be glad to help.