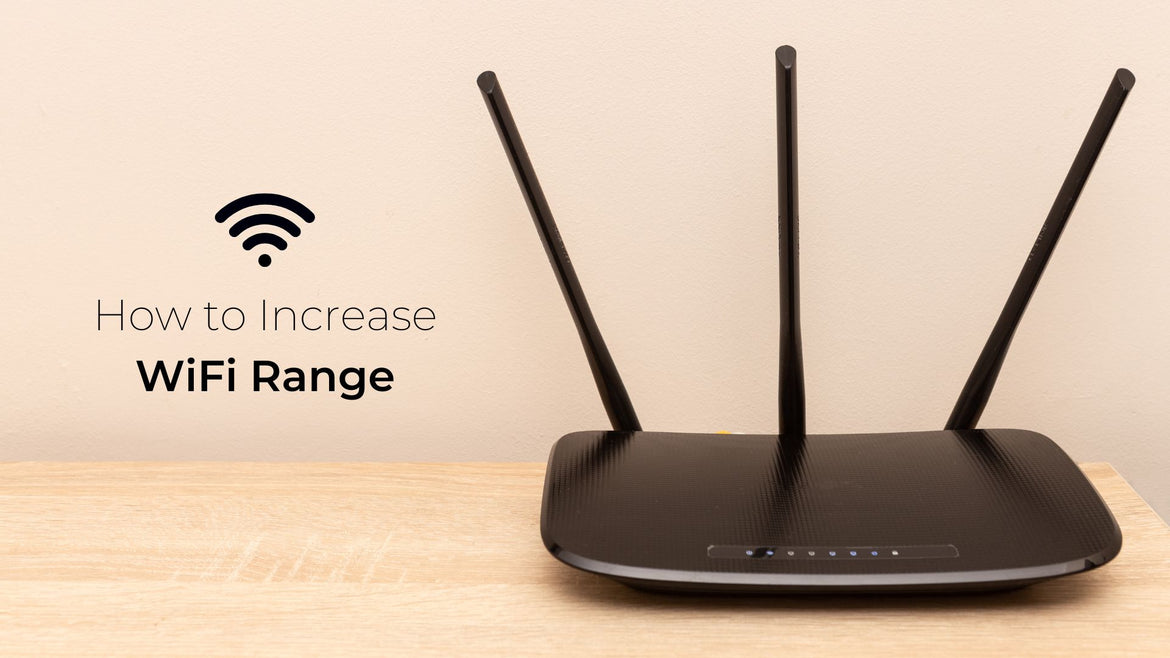 Top 5 Tips to Increase WiFi Range
Do you find that your WiFi just doesn't quite reach all the areas you need it to in your home? Perhaps you need it in your home office to go through emails or in your bedroom to scroll through social media, but the WiFi doesn't cover these areas. Not having WiFi in certain locations in your home or on your property can hinder your ability to learn, work, or connect in areas where you're most comfortable. In this blog we take a look at ways that you can extend your WiFi's range.
1. Download Firmware Updates for Routers and Devices
This is an easy and inexpensive option to try. Like most devices, routers often require updates. That's because the manufacturers are always making fixing and improving performance, releasing firmware updates to provide those changes to customers.
Some routers may undergo updates automatically, but it's important to check your configurations to ensure that's the case. If you haven't received an update in a while, manually updating your device or scheduling it to receive firmware updates can be beneficial.
Consider planning to update other connected devices when you are updating your router. Even if your WiFi is strong, your devices may not be running optimally if their firmware is not up to date.
2. Place the router in another location
This is one of the cheapest and easiest solutions. If your WiFi router is currently placed at one end of your home, then the signal has to stretch from that area all the way across your home. That includes moving through many obstructions, which will weaken the signal. By the time it reaches the bedroom on one side of the home the office on the other side, there might be little to no signal left.
Moving your router to a more central area can ensure the signal is constant and strong throughout the home.
However, a centralised location may not always be the best placement for the router, play around with different locations in the house to find the best area for the router. Some areas may have obstructions that may block the signal from extending through the house.
The one downside to this solution is that you may need to run cable for the router. If you're relying on internet coming into the home from an outside source, the cable may only reach a particular room. You may need to extend the cable so that it can reach the desired room.
3. Upgrade or Replace Your Router
Digital devices become obsolete rapidly in this modern world. There's a reason many companies offer coverage for up to two or three years. By that time, the device you might be using is often out of date and ready for an upgrade.
If your router is older than 3 years, it's time to think about upgrading to newer technology. WiFi technology is constantly changing — similar to how cell signal is always moving toward something faster. Your old WiFi router may not support the newest technology, which could be slowing down your entire home network.
This is particularly relevant if you've already updated other devices and gadgets in your home. Newer technology might have been created with newer WiFi technology in mind. They may not run efficiently on old WiFi.
4. Add WiFi Extenders
If your WiFi signal simply doesn't reach across your entire home or property and moving the router doesn't fix the problem, then you might consider adding a WiFi extender.
WiFi range extenders are single units that broadcast your existing WiFi signal into an area with little to no signal. They do so by wirelessly connecting to an access point, usually a WiFi router, or using an ethernet cable to establish a wired connection. Normally, the extender should be placed half-way between the area with poor signal strength and the router. However, if you decide to conduct an ethernet backhaul, with a long enough ethernet or gigabit ethernet cable, you could place the extender anywhere since the signal is being transmitted through the cable rather than through the air.
5. Get a WiFi Booster
A less expensive option is to install a WiFi booster. Unlike extenders or repeaters, WiFi boosters capture your network's existing signal and boost or amplify it for better coverage. It picks up a weak signal from your WiFi router and broadcasts it at a stronger rate into new areas in the home. These devices are not permanent, as Ethernet connection points can be, and they can be moved around your home to restructure your WiFi strength if you decide to move other things around in the future.  
How May We Help You?
Bolton Technical is a leading provider of cell phone signal boosters, devices that amplify 4G & 3G LTE for any phone with any carrier for home, office, or car. We've boosted over 1,000,000 m² of signal for homes, buildings, and vehicles across America and Canada and now that same power is boosting signal across South Africa.
Free consultation (ask us anything) with our South African-based customer support. Email us or Call us today.
Free shipping over R500 to Major South African cities. Usually ships same day.
30-day money back guarantee. You want to make sure you're satisfied.
Our goal is simple: keep people connected. Ask us anything and we'll be glad to help.